GE Achieves 10-year Safety Milestone at its Onne Facility
In the last 10 years of operations, GE has not had any incidents at its Onne facility resulting in lost work time for any of the technicians, engineers or other personnel working in the facility. In recognition of this achievement, GE has received a "Meritorious Safety Performance Award", which is an award that Shell Nigeria Exploration and Production Company (SNEPCO) awards to its partners that prioritize safety in their operations.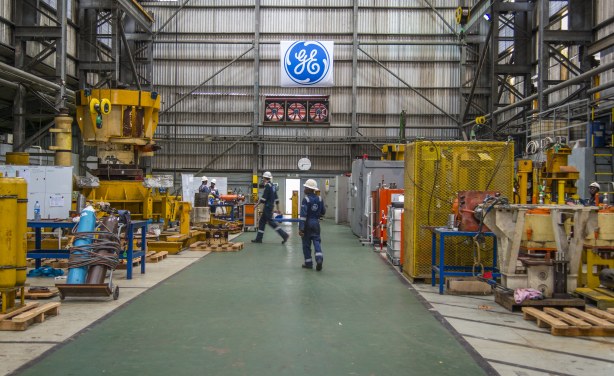 GE's Onne facility in River State now has the capability to fabricate subsea wellheads in Nigeria for the company's Oil and Gas customers. The Onne facility has been operating since 2002 and is the first and only quayside facility of its calibre in Nigeria, employing over 200 people. It has an exceptional safety record, and is a cornerstone in GE's commitment to the country's Oil and Gas industry. fabricate subsea wellheads in Nigeria for its Oil and Gas customers.
Nigeria: GE Oil and Gas Commence Fabrication of Subsea Wellheads in Nigeria

GE Africa, 7 November 2014

+$4.5Million Investment in GE's Onne facility in River State All-Nigerian Subsea Wellheads Fabrication Team of Leaders and Engineers Assembly Operation Creating Business… Read more »

Nigeria: Nigeria Still Has Great Future in Oil and Gas, Says GE President

Guardian, 15 November 2014

During his recent official visit to Nigeria, Lorenzo Simonelli, the President and Chief Executive Officer of the GE Oil & Gas, spoke to MARCEL MBAMALU on a wide range of… Read more »

Nigeria: Nigerian Content Policy Has Changed Oil, Gas Landscape, Says Nwapa

Guardian, 9 November 2014

Engineer Ernest Nwapa (a Fellow of the Nigerian Society of Engineers) has over 30 years experience on Nigerian Engineering Projects in various positions from Design, to Supervision… Read more »
InFocus
It has taken GE four years of planning and over $4.5 million investment in facilities, recruitment and training to reach this new milestone - GE has announced that its facility in ... Read more »

Julius Berger Nigeria Plc has emerged as the preferred bidder to build General Electric's multi modal manufacturing and Assembly facility in Calabar Nigeria. The project is ... Read more »