DRC Mobile Courts Deliver Justice for Victims of Sexual Violence
Mobile courts have been utilized in the Democratic Republic of the Congo to prosecute cases of sexual violence perpetrated by military personnel and civilians. Over the past month, the Grand Tribunal of Bunia has held public trials in the capital of Ituri District, servicing an area that spans over 25,000 square miles.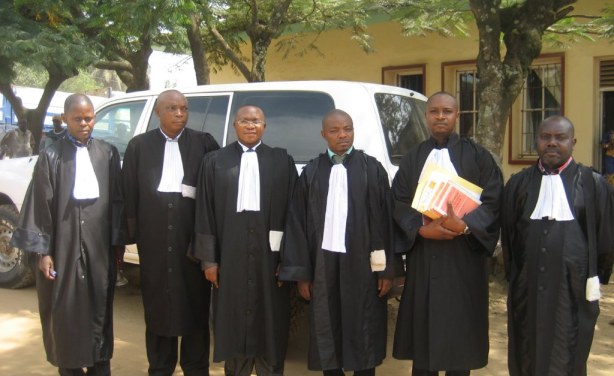 Wonga Okongo, President of the Grand Tribunal of Bunia, third from right, flanked by magistrates of the prosecution and defense in Bunia, DRC.
Photo Essay
Picture 1 of 5

Jeanine Mabunda Lioko, Presidential Adviser on Sexual Violence and Child Recruitment, and her team land in Goma, DRC. Public trials were held in the capital of Ituri District, an area lacking legal ... see more »
Africa: Remarks At the African Center for Justice Conference

State Department, 4 June 2015

Remarks Tom Malinowski, Assistant Secretary, Bureau of Democracy, Human Rights, and Labor Kinshasa, Democratic Republic of the Congo Read more »

Congo-Kinshasa: DRC Fully Committed to Ending the Scourge of Sexual Violence

RDC, 15 April 2015

First-ever address by DRC government official at UN Security Council details significant progress by DRC to curb sexual violence and increase accountability Read more »

Congo-Kinshasa: DRC Mobile Gender Courts Nominated for Award

OSISA, 26 September 2012

After three years and hundreds of cases, the mobile gender court project in South Kivu Province in the east of the Democratic Republic of Congo (DRC) has been shortlisted for a… Read more »

Africa: Mobile Gender Courts Deliver Justice

ThinkAfricaPress, 30 July 2012

Can mobile gender courts' swift justice tackle impunity in the DRC's remote regions? Read more »