Uganda: Sheikh Killed by Gunmen
Sheikh Ibrahim Hassan Ibrahim Kirya has been fatally shot by two unidentified assailants. The Kibuli Muslim faction spokesperson informed police he feared his life was in danger following the deaths of several Muslim clerics who were killed by unknown attackers in similar incidents.
Uganda: They Shot the Sheriff, the Sheikh, the Deputy, and Many Citizens Too!

Monitor, 2 July 2015

Another Muslim cleric was shot dead in Kampala early this week. By one count, that brings to 12 the number of clerics shot dead around the country, often in the same manner: a… Read more »

Uganda: Sheikh Hassan Kirya Shot Dead

Observer, 1 July 2015

Hassan Ibrahim Kirya, the spokesperson of the Kibuli Muslim faction has been shot dead. Read more »

Uganda: Police Have Failed Muslim Clerics

Monitor, 2 July 2015

Who is killing Muslim clerics? What is their motive? How can the trend be stopped? How can clerics, their families and followers be reassured that they are safe? It is disturbing… Read more »

Uganda: More Questions As Another Sheikh Gunned Down

Monitor, 1 July 2015

Shortly after his Tarawih prayers at Dar-tal-alim al-islamiya in Rubaga, Sheikh Ibrahim Hassan Kiirya, was on Tuesday attacked and shot dead by unknown assailants on a bodaboda… Read more »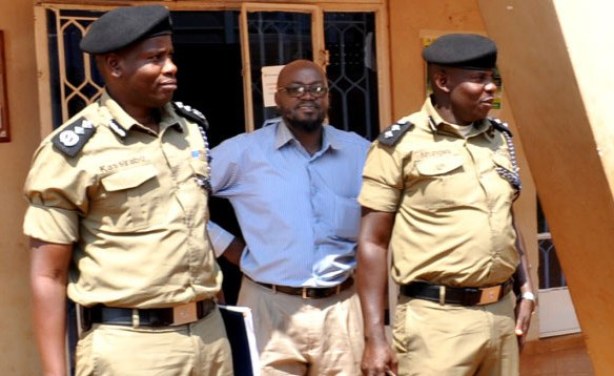 The late Kibuli-based Muslim faction spokesperson Sheikh Hassan Kirya, centre, with the Commandant of VIPPU, Mr Elias Kassirabo, left, and his deputy Anthony Ntungwa, right (file photo).
Uganda: Mufti Demands Answers On Rising Cleric Murders

Observer, 27 May 2015

Mufti Sheikh Shaban Ramadhan Mubajje has criticized President Museveni's idea of arming civilians perceived to be under threat, saying that this could endanger rather than protect… Read more »

Uganda: Muslims Decry Delayed Clerics' Murder Probe As Ramadan Starts

Observer, 17 June 2015

The Uganda Muslim Supreme Council is worried by the slow progress the police are making in investigating the killings of the Muslim clerics. Read more »

Uganda: Mubajje, German Envoy Discuss Clerics' Killings

Observer, 8 June 2015

The German ambassador to Uganda, Peter Blomeyer, and Mufti Shaban Ramadhan Mubajje, discussed the rampant killings of Muslim clerics and development issues during a visit the… Read more »

Uganda: Muslims Murder Trial Set As More Suspects Line Up

Observer, 29 May 2015

Nakawa Magistrate's court has committed five more suspects to the High Court to stand trial for the assassination of top Muslim clerics a couple of months ago. Read more »

Uganda: Registrar Kisawuzi Asks for Protection

New Vision, 6 May 2013

The Court of Appeal registrar, Sheikh Elias Omar Kisawuzi, has asked the Chief Justice, Benjamin Odoki, to protect him from what he termed as undue interference by Justice Anup… Read more »

Uganda: Prosecutor Kagezi Case Puts Focus On Target Killings

Independent (Kampala), 12 April 2015

A behind the scenes look at what could be behind them Read more »

Uganda: Security Beefed Up Amid Talk of Hit List

Observer, 3 April 2015

Assassins behind the recent spate of killings in the country, including Muslim clerics and the acting assistant director of public prosecutions, could have a hit list, security… Read more »

Uganda: Dr Kiyingi Named in Sheikhs Killings

Observer, 11 February 2015

The Directorate of Public Prosecutions (DPP) yesterday named Australia-based cardiologist Aggrey Kiyingi in the murder of two Muslim clerics last year. Read more »

Uganda: Sheikh Murder Suspect's Wife Appeals to Police

Observer, 9 January 2015

The wife of one of the four suspects in the Tuesday killing of Sheikh Muhammad Mawazi Sebugwawo has appealed to the police to release her husband. Read more »

Uganda: 15 Arrested Over Sheikh's Murder

Observer, 5 January 2015

The police have arrested at least 15 people in Mayuge district in connection with last month's murder of the Shiite Muslims leader, Sheikh Daktoor Kadiri Muwaya. Read more »

Uganda: Let Us Not Bury the Murders With Sheikh Bahiga

Observer, 4 January 2015

In his New Year message, President Museveni swore that his government would catch the criminals behind the gunning down of Muslim leaders. Read more »

Uganda: WHO Is Killing Muslim Leaders?

Observer, 30 December 2014

Two murders of prominent Muslim leaders over a period of three days during the Christmas holiday! Read more »