Misunderstood U.S. Law 'Can Help Nigeria'
The widespread positive response to Nigerian President Muhammadu Buhari's visit to Washington, D.C. has been shadowed by his critique of a U.S. law that limits taxpayer-funded aid to abusive security forces. Inaccurately portraying the 'Leahy Law' as constraining the fight against Boko Haram - a misreading repeated in media coverage - has raised concerns among supporters of the law. At the same time, Buhari was clear that the United States backs the campaign against Boko Haram and welcomed the "understanding and willingness to support Nigeria." He told an overflow audience at the United States Institute of Peace that he would restore trust in the country's governance and credited U.S. pressure - including a pre-election visit by Secretary of State John Kerry - with helping ensure a free and fair vote. The pressure, he said, "was sustained by the United States up to the last."
Nigeria: Misread U.S. Law Can Help Buhari

allAfrica, 27 July 2015

In a well-received speech that largely focused on his desire to address impunity and corruption in his country and to create a "responsive, inclusive, transparent… Read more »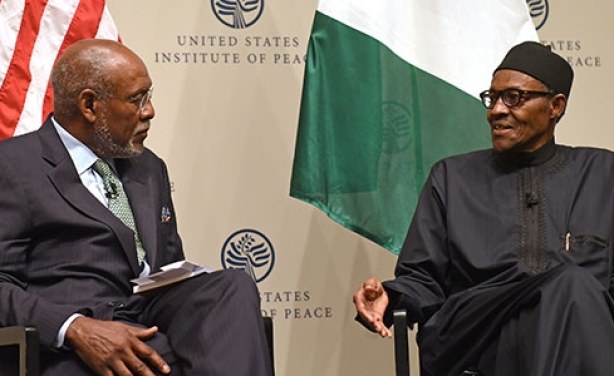 Ambassador Johnnie Carson (left) and Nigerian President Muhammadu Buhari at the U.S. Institute of Peace.
Video
Publisher:

Publication Date:

22 July 2015

In an exclusive interview with the U.S. Institute of Peace, new Nigerian President Muhammadu Buhari discussed the most important areas of cooperation ... see more »
Nigeria: Boko Haram - Senator Leahy Reacts to Buhari's Criticism U.S.

Independent (Lagos), 24 July 2015

Senator Patrick Leahy of Vermont, United States who initiated the popular Leahy Law that prohibits America from selling arms to countries with questionable human rights records has… Read more »

Nigeria: Buhari Clarifies Position On Application of Leahy Law

This Day, 24 July 2015

President Muhammadu Buhari has clarified his position on the effect of the application ‎of the United States of America's Leahy Law on Nigeria's war against Boko Haram. Read more »

Nigeria: How the Leahy Law Can Help Nigeria

Premium Times, 25 July 2015

The Leahy Law does not apply to arms sales financed with Nigeria's own funds. It only applies to assistance being drawn from the U.S. Treasury. Decisions by the Obama… Read more »

Nigeria: Military Needs to Clean Up Its Human Rights Record

Premium Times, 25 July 2015

It is well documented by the State Department and by respected human rights organisations that Nigerian army personnel have, for many years, engaged in a pattern and practice of… Read more »

Nigeria: Buhari - I Never Accused U.S. of Aiding B/Haram

Daily Trust, 24 July 2015

President Muhammadu Buhari says persisting claims in the local and international media that he indicted or accused the United States government of helping the Boko Haram terrorist… Read more »

Nigeria: Fani-Kayode Reveals Why U.S. Is Supporting Boko Haram

Independent (Lagos), 25 July 2015

Former Director of Media and Publicity of Goodluck Jonathan's National Campaign Organisation, Femi Fani-Kayode, who now prefers to be called Olufemi Olu-Kayode, on Saturday, July… Read more »

Nigeria: You Goofed On Buhari's Accusation Against America, Presidency Tells Media

Independent (Lagos), 24 July 2015

The Presidency on Friday, July 24, 2015, disputed media reports on President Muhammadu Buhari's accusation in the United States that the American government was indirectly aiding… Read more »

Nigeria: Buhari Denies Accusing U.S. Govt. of Aiding Boko Haram

Premium Times, 24 July 2015

President Muhammadu Buhari has denied accusing the United States of supporting Boko Haram by refusing to sell arms to Nigeria. Read more »

Africa: Leahy Amendment to the Foreign Assistant Act of 1961

allAfrica, 24 July 2015

Following is the text of the 'Leahy Law' - Section 620M of the Foreign Assistance Act of 1961, as amended, a permanent standing law that governs all State Department funded aid. Read more »

Nigeria: Buhari Fails to Seal U.S. Arms Deal, Returns Home Displeased

This Day, 24 July 2015

After President Barack Obama, among other top ranking United States officials lavished praise on President Muhammadu Buhari and Nigeria for three days during his US visit, the… Read more »

Nigeria: Reaction Of Senator Patrick Leahy (D-Vt.) To Nigerian President Buhari's Mis-Directed Criticism Of The Leahy Law On Human Rights

United States Senate, 23 July 2015

It is well documented by the State Department and by respected human rights organizations that Nigerian army personnel have, for many years, engaged in a pattern and practice of… Read more »

Nigeria: 'We Have No Illusions About Our Challenges'

Guardian, 24 July 2015

Being the text delivered by President Muhamadu Buhari at the United States Institute for Peace (USIP) on Wednesday July 22 2015 Read more »

Nigeria: Campbell - Nigeria-U.S.Relationship Chilled Under Jonathan's Govt

Leadership, 26 July 2015

A former United States Ambassador to Nigeria, Mr. John Campbell, said that the smooth relationship between his country and Nigeria became chilled under the administration of former… Read more »
InFocus
President Muhammadu Buhari, in Washington on a visit, has announced that the World Bank pledged up to U.S.$2.1 billion. Read more »

Welcoming Nigerian President Muhammadu Buhari to Washington on Monday, President Barack Obama commended the new leader's efforts to restore "safety, security and peace." Buhari was ... Read more »