Is Burkina Faso's Elite Guard Still a Threat?
Despite promises to disarm and the subsequent intervention by the army, some members of the Presidential Security Regiment still refuse to give up their weapons, leaving many to wonder if the elite force will continue to pose a threat to the transition to democracy, writes Mathias Hounkpe for IRIN.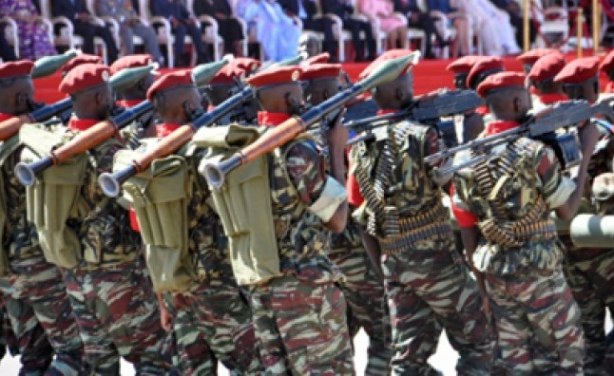 The Presidential Security Regiment (file photo).
Burkina Faso: Burkina Faso's Defiant Presidential Guard

Deutsche Welle, 30 September 2015

There have been renewed clashes in Burkina Faso between the army and the presidential guard. The army has regained control, but tension persists. Read more »

Burkina Faso: Burkina Faso Coup Leader Reportedly in Vatican Embassy

Deutsche Welle, 30 September 2015

The man who led an unsuccessful coup in Burkina Faso is reportedly seeking refuge in the Vatican's diplomatic compound. General Gilbert Diendere says he's willing to surrender to… Read more »

Burkina Faso: Call for Restraint in Burkina Faso

State Department, 30 September 2015

Press Statement, September 30, 2015 Read more »

Burkina Faso: Ban Calls On All Actors in Burkina Faso to Act Responsibly, Exercise Restraint

UN News, 28 September 2015

United Nations Secretary-General Ban Ki-moon today urgently called on all national stakeholders in Burkina Faso to act responsibly, exercise restraint and work in the best… Read more »

Burkina Faso: Tensions As Presidential Guard Refuses to Disarm

News24Wire, 29 September 2015

Burkina Faso's army on Tuesday ordered Ouagadougou residents to stay home "for security reasons" after some members of the presidential guard refused to disarm. Read more »
InFocus
Interim President Michel Kafando has announced his return to power and has reinstated the transitional government Read more »

The army has entered Ouagadougou without resistance, saying they want to secure the surrender of the coup leaders without gunfire or bloodshed. Read more »

West African leaders and their military chiefs are to travel to Burkina Faso to reinstate the country's interim leadership amid a standoff in the capital between an elite ... Read more »