Sorry, Madagascar Your Problems Aren't Hot Enough
Poverty fatigue is real, and it can be hard to interest anyone outside the development community in the fates of poor African countries. But even on this scale, Madagascar is an outlier, writes Simon Allison for the ISS.
Madagascar: Sorry, Your Problems Aren't Hot Enough

ISS, 7 October 2015

Madagascar is world famous. Mention the island, the planet's fourth largest, and most people think of its astonishing biodiversity, its lemurs, or - especially - the eponymous… Read more »

Madagascar: Madagascar's Food Crisis - Chronic Malnutrition Is Stunting Mental Capacity

Daily Maverick, 28 September 2015

On the surface, this is a story about food, and Madagascar. But it's actually about something else entirely. It's about how generations of Malagasy children have been… Read more »

Madagascar: 'Get Rich Quick' With Pink Sapphires - For Some

Africa In Fact, 31 July 2015

In the early 1990s, only 40 people lived in Ilakaka, a sleepy village off the beaten path in south-west Madagascar more than 700km from Antananarivo, the capital of the rugged… Read more »

Madagascar: Madagascar Votes in Milestone Municipal Election

UNDP, 31 July 2015

Voters today headed to the polls in Madagascar to elect mayors and local officials. The election was one of the final steps of a Southern African Development Community… Read more »

Madagascar: Madagascar Sees a New Generation of Women Leaders

UNFPA, 11 August 2015

"I used to tell young people to stand up for their ideas," said Tiana Razafinimanana, in Antananarivo, the capital of Madagascar. Today, she is not only helping the country's young… Read more »

Madagascar: Empowering Malagasy Women Through Climate-Smart Raffia Production

ITC, 18 August 2015

Support for women's associations in Madagascar to enhance raffia production is also helping the conservation of biodiversity in the Makira Natural Park. Read more »

Madagascar: Aina Means Life in Madagascar - It Also Means Greater Access to Food

WFP, 22 September 2015

Vulnerable communities in Behara, in drought-hit southern Madagascar, participate in an European Union-funded food for assets programme Read more »

Madagascar: AfDB Approves Rural Youth Enterprise Project for Food Security in Madagascar

African Development Bank, 23 September 2015

The African Development Bank Group (AfDB) has approved two loans amounting to US$ 24.55 million for Madagascar to help reduce the country's food insecurity and fragility. Read more »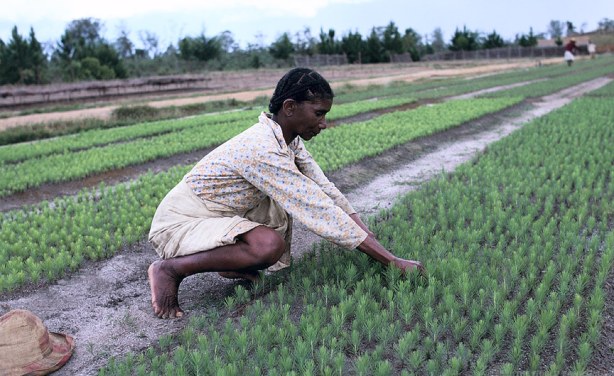 File photo.