Low Turnout Mars Egypt's Parliamentary Vote
Pundits had warned that a low turnout would cast doubt on the "political legitimacy" of the incoming legislature. The vote is the first round of the country's long-delayed parliamentary polls, with a second round scheduled in November.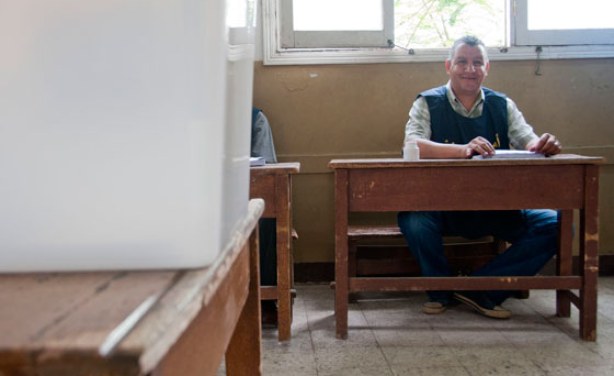 A poll worker waits to check voter's identification cards (file photo).
Egypt: Corrected - Elections Committee Says Turnout of 1.19 Percent of Egyptians By Noon

Aswat Masriya, 19 October 2015

Only 1.19 percent of eligible voters in 14 provinces have cast their votes in the House of Representatives elections by noon Sunday, said the spokesman of the Supreme Elections… Read more »

Egypt: More Voters Compared to First Day of Egypt Elections - NCHR

Aswat Masriya, 19 October 2015

The National Council for Human Rights (NCHR) said that compared to the previous day, there was an increased number of voters, by early afternoon on Monday, the second and last day… Read more »

Egypt: As Egypt Votes, Many to Boycott Elections in Cairo

Deutsche Welle, 17 October 2015

Egyptians are electing their first parliament since the 2013 coup that overthrew President Morsi. But, Naomi Conrad reports from Cairo, amid a climate of intimidation and… Read more »

Egypt: Voting Begins in Country's Parliamentary Elections

Focac, 19 October 2015

Egyptians began voting Sunday in the country's first parliamentary election since former Islamist President Mohammed Morsi was ousted in 2013. Read more »

Egypt: 'Moderate' Turnout in Voting Abroad in Egypt Elections - Diplomat

Aswat Masriya, 18 October 2015

The turnout of Egyptians voting abroad remains "moderate" well into the second and last day of voting, an assistant to Egypt's foreign minister told Aswat Masriya on Sunday. Read more »

Egypt: Elections Committee Says Turnout of 1.9 Percent of Egyptians By Noon

Aswat Masriya, 18 October 2015

Only 1.9 percent of eligible voters in 14 provinces have cast their votes in the House of Representatives elections by noon Sunday, said the spokesman of the Supreme Elections… Read more »

Egypt: Egypt's PM Announces Half Day Off Monday for Government Employees to Vote

Aswat Masriya, 19 October 2015

Prime Minister Sherif Ismail announced a half day off today, Monday, to allow government employees to cast their votes amid low turnout on the first day of legislative elections… Read more »

Egypt: Turnout of 15 to 16 Pct On First Day of Voting in Egypt Elections - PM

Aswat Masriya, 19 October 2015

Egypt's Prime Minister Sherif Ismail said on Monday that the voter turnout on the first day of voting inside Egypt was 15 to 16 percent, state news agency MENA reported. Read more »

Egypt: Delay in Opening Polling Stations, Violence Actions and Election Propaganda in the First Hours of the Elections

EOHR, 18 October 2015

Delay in opening polling stations, violence actions and election propaganda in the first hours of the elections Read more »
InFocus
The Supreme Constitutional Court invalidated the upper house of parliament and the panel that drafted the country's constitution, describing them as unconstitutional. Read more »