Civilians Killed in Djibouti Clashes
There is a dispute over the number of people who died in Djibouti when civilians clashed with the police at a religious celebration. The opposition said 19 had died, while the foreign minister put the death toll at seven.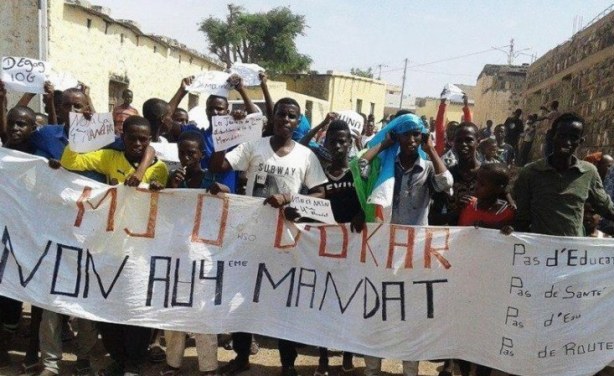 A protest in Djibouti earlier in 2015.
Djibouti: Guelleh to Run for Presidency Again

Ethiopia Government, 7 December 2015

President Ismail Omar Guelleh of Djibouti has announced that he will run for president in the national elections to be held in April next year. Read more »

Djibouti: Rights Lobby Protests 'Escalation of Violence and Repression'

Alkarama, 3 December 2015

On 3 December 2015, as members of the opposition coalition, the National Salvation Union (USN) were going to Ali Sabieh for meetings, they were stopped for a police control during… Read more »

Djibouti: Arbitrary Detentions Continue, Says Rights Group

Alkarama, 18 November 2015

Alkarama and the Djibouti Human Rights League (LDDH) call again on the Djiboutian authorities to release the opponents arrested in the recent months and arbitrarily detained since. Read more »

Djibouti: Base Could Be Start of U.S.-China Military Rivalry

East African, 28 November 2015

Chinese leaders plan to build a military base in Djibouti to "extend their reach," the head of the United States Africa Command said last week. Read more »

Africa: China to Open Its First Naval Base in Africa

Al Jazeera, 22 December 2015

China recently announced a landmark agreement with Djibouti to establish Beijing's first overseas naval base in its modern history. Read more »
InFocus
It is believed that China intends to buttress its growing economic involvement in Africa with a military presence. Read more »

The Chinese-built line linking the two countries, at a cost of U.S.$4 Billion, is part of a plan to boost the manufacturing sector. Read more »