Africa's 'New Mosaic' of Political Systems
The advance and retreat of democracy in Africa since the end of the Cold War have resulted in a new mosaic of political systems, writes Richard Joseph. Popular uprisings can still sweep away autocracies but democracy movements can also be thwarted by determined autocrats. In a second article, on growth and governance, he notes that the positive growth of the past two decades has been seen under a diverse array of political systems.
Africa: A New Political Era Dawns for Africa

AfricaPlus, 11 January 2016

We begin the fifth year of AfricaPlus with discussions of two paradoxes in sub-Saharan Africa: the durability of both democratizing and authoritarian governments; and the expansion… Read more »

Africa: The Growth-Governance Puzzle in Africa

AfricaPlus, 11 January 2016

Why did sub-Saharan Africa experience such a prolonged economic downturn starting in the mid-1970s? And why has it experienced such a sustained economic upturn since the mid-1990s?… Read more »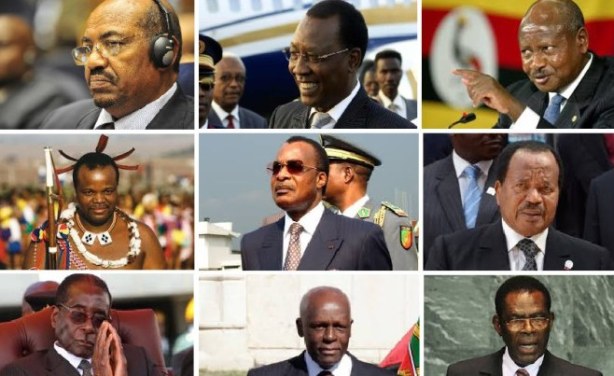 Some African leaders with 20 years in power, from top left to bottom right: Omar al-Bashir, Sudan; Idress Deby Itno, Chad; Yoweri Museveni, Uganda; King Mswati III, Swaziland; Denis Sassou Nguesso, Republic of the Congo; Paul Biya, Cameroon; Robert Mugabe, Zimbabwe; Jose Eduardo Dos Santos, Angola; Teodoro Obiang Nguema Mbasongo, Equatorial Guinea.
Africa: Hope As African Leaders Reduce Terms

Nation, 10 January 2016

As some African leaders are going all out to increase their terms in office, it is gratifying that several are calling for reduced ones. Read more »

Africa: Is Good Governance Essential to Economic Growth?

AfricaPlus, 18 February 2015

In 1993, IMF Director Michel Camdessus called sub-Saharan Africa "a sinking continent." Just three years later, however, he said that the signs of an economic recovery were… Read more »

Africa: How Do Countries Achieve Economic Turnaround?

AfricaPlus, 6 January 2015

AllAfrica Editors' note: The graphics illustrating this article, and the footnoted references, can be found in the original article posted to AfricaPlus. Read more »

Africa: Does Growth Depend on Good Governance?

AfricaPlus, 3 August 2013

The third wave of democracy arrived in Africa in the early 1990s, well after the pursuit of pro-market reforms advocated by western aid agencies and international organizations.… Read more »

Africa: Economic Growth Lays Path to Better Governance

AfricaPlus, 3 July 2013

Immediately upon President Obama's arrival in Senegal on a three-country Africa tour, he voiced his familiar insistence on the importance of democracy and good governance and their… Read more »