Liberia's 'Pulling Together' After Ebola - Commerce Minister
Plummeting world commodity prices followed by a completely unanticipated outbreak of Ebola brought the country's economy to a near-standstill. In an AllAfrica interview last month during the U.S.-Africa Business Summit in Addis, Commerce Minister Axel Addy outlined the government's efforts to re-ignite growth.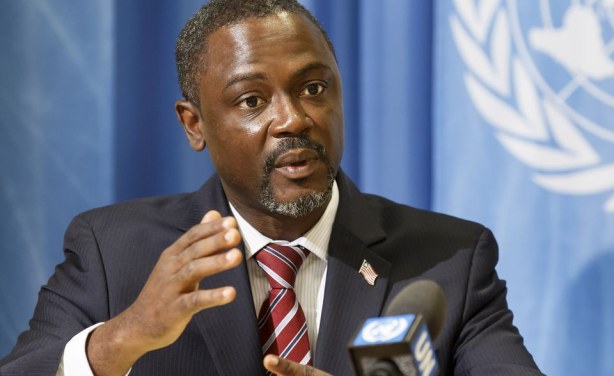 Commerce Minister of the Republic of Liberia, Axel Addy.
Africa: Speech Delivered By President Akinwumi Adesina On the Occasion of State Dinner Hosted By President Ellen Johnson Sirleaf of the Republic of Liberia - Monrovia, Liberia - March 10, 2016

African Development Bank, 14 March 2016

Your Excellency Ellen Johnson Sirleaf, President of the Republic of Liberia; Your Excellency Joseph Boakai, Vice President of the Republic of Liberia; Your Excellency Alex J.… Read more »

Liberia: Ifad-Supported Projects Contribute to Post-Ebola Recovery

FrontPageAfrica, 26 February 2016

The Republic of Liberia and the United Nations International Fund for Agricultural Development (IFAD) signed two agreements today to finance the Tree Crops Extension Project (TCEP)… Read more »

Liberia: Liberia, WB Sign U.S.$32 Million Agreement to Reduce Poverty

FrontPageAfrica, 23 February 2016

In an effort to reduce poverty in Liberia, the Government of Liberia (GoL) through the Ministry of Finance and Development Planning (MFDP) has signed a US$32 million distinct… Read more »

Liberia: W/Bank, GOL Sign U.S.$ 25 Million Deal

NEWS, 21 February 2016

World Bank Dobraja, RREA and MFDP KonnehThe World Bank Group and the Government of Liberia have signed a US$25 million grant agreement aimed at enhancing renewable energy supply in… Read more »

Liberia: Two IFAD-Supported Projects Contribute to Post-Ebola Recovery in Liberia

IFAD, 22 February 2016

The Republic of Liberia and the United Nations International Fund for Agricultural Development (IFAD) signed two agreements today to finance the Tree Crops Extension Project (TCEP)… Read more »

Liberia: Over 9,000 to Get ACF Post-Ebola Aid in Bomi

LINA, 16 February 2016

Over 9,000 residents of Bomi County are expected to benefit from a post-Ebola recovery program aimed at responding to the rising humanitarian needs, the NGO Action Contre la Faim… Read more »

Liberia: Liberia, Germany Sign 25 Million Euros Financing Agreement

Observer, 17 January 2016

The government of Liberia through the Ministry of Finance and Development Planning (MFDP) on Wednesday, January 13, signed a 25 million euros financing agreement with the German… Read more »

West Africa: West Africa Now Has No Known Ebola Cases

FrontPageAfrica, 15 January 2016

World Bank Group President Jim Yong Kim issued the following statement on today's announcement declaring the end of Ebola transmission in Liberia, which marks the first time since… Read more »
InFocus
"Liberia was on the right trajectory in its recovery from conflict [before Ebola struck] - moderate but steady economic growth resulting from thoughtful policies and the support of ... Read more »

In line with an appeal made by the presidents of the worst-affected countries, the five priority areas for the additional funding include: strengthening health systems; ... Read more »

Christine Lagarde has urged President Ellen Johnson Sirleaf to continue to stabilize the country's economy following the devastating Ebola crisis, pledging that the IMF "will ... Read more »