Ugandan President's Son Rubbishes Succession Talks
President Yoweri Museveni's son, Muhoozi Kainerugaba, was officially promoted to major general, a move that has stirred allegations of a succession plan.
Uganda: Museveni's Son Eyeing Presidency?

Monitor, 26 May 2016

President Museveni's son, Maj Gen Muhoozi Kainerugaba, yesterday broke his silence on the raging debate over suspicions that he is being groomed to replace his father as President,… Read more »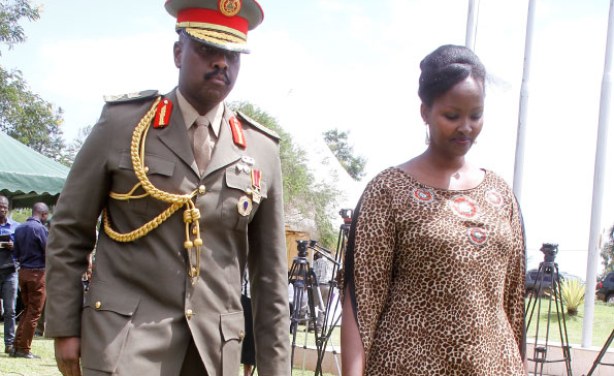 The Special Forces Command boss, Maj Gen Muhoozi Kainerugaba with wife after receiving his pips at the army headquarters in Mbuya, Kampala, yesterday.
Uganda: First Son Muhoozi Denies Harbouring Presidential Ambitions

Observer, 25 May 2016

Major General Muhoozi Kainerugaba, son to President Yoweri Museveni dismisses as baseless, reports that he is being groomed to succeed his father as president of Uganda. Read more »

Uganda: Museveni's Son Gen Muhoozi Decorated

Monitor, 25 May 2016

First son and leader of the Special Force Command (SFC) Muhoozi Kainerugaba has been decorated following his promotion to the rank of Major General. Read more »

Uganda: Muhoozi, First Among 15 Major Generals

Observer, 18 May 2016

First Son Muhoozi Kainerugaba was on Monday elevated to major general, the current third-highest rank in the army. Read more »

Uganda: Reason for Muhoozi Promotion Leaks

Monitor, 17 May 2016

First Son Muhoozi Kainerugaba was on Monday promoted from Brigadier to Major General to keep him in the right rank to command the Special Forces that is to be expanded into an… Read more »

Uganda: First Son Muhoozi Promoted to Major General

Observer, 16 May 2016

President Yoweri Museveni has promoted several army officers including his son, Kainerugaba Muhoozi. The promotion is contained in a May 16 radio message from the Defense… Read more »

Uganda: Museveni Promotes Muhoozi to Rank of Major General

Monitor, 16 May 2016

Ugandan President Yoweri Museveni has promoted senior and junior army officers including his son Muhoozi Kainerugaba. Read more »