#Brexit - What's In It For Africa?
Brexit will have profound consequences for the UK's status as a financial centre and gateway to the EU, for its trading relations with the world, and for its global influence, writes SAIIA.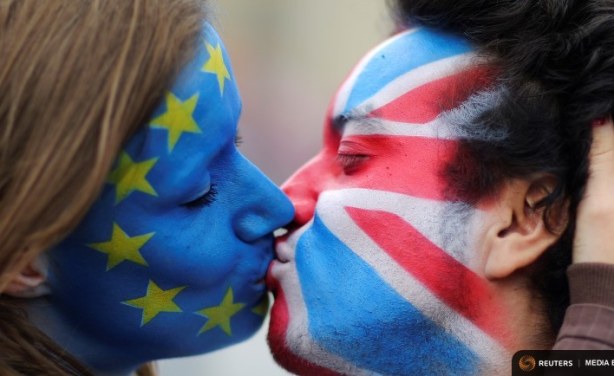 Two activists with the EU flag and Union Jack painted on their faces, kiss each other in front of the Bradenburg Gate to protest against Brexit in Berlin.
Nigeria: Did Prophet TB Joshua Predict Brexit?

Ghana Star, 26 June 2016

According to a new video published by Emmanuel TV which is owned by the Synagogue Church Of All Nations [SCOAN] Prophet TB Joshua predicted the exit of Britain from the European… Read more »

Africa: Uncertain Trade, Less Progressive Aid and a New Colonial-Minded PM? What Brexit Means for Africa

African Arguments, 27 June 2016

Chaos has been unleashed and we all will be poorer because of Brexit, including in Africa. Read more »

Africa: What Africa Thinks of Brexit

RFI, 25 June 2016

What could potentially be the consequences of Brexit on African countries? It's still of course quite uncertain what's going to happen and right now it's seems difficult to judge… Read more »

Africa: Exporters Face Choppy Waters in the Wake of Brexit

The Conversation Africa, 26 June 2016

One would certainly be forgiven if, like us, you found yourself doing a double take at the news that Britain's public voted in favour of leaving the EU. This is because shortly… Read more »

Nigeria: Brexit - UK Credit Rating Downgraded

This Day, 26 June 2016

Some of the wider implications of Britain's decision on Thursday to leave the European Union, commonly called Brexit, have started manifesting. The country left the EU after 51.9… Read more »

Nigeria: Twenty Five More Exits

Daily Trust, 27 June 2016

Following the very good example set by British voters last Thursday, of lightly throwing away the economic boom baby with the fear of immigration bathwater, countries all over the… Read more »

Africa: Britain EU Exit Bad Precedent for Africa - Uganda

Monitor, 24 June 2016

The government said yesterday it was in support of the UK remaining in the EU but said it was up to the British people to decide. Read more »

Uganda: How UK Exit From EU Would Benefit Uganda

Monitor, 24 June 2016

One of the main causes of yesterday's referendum in the United Kingdom is the amount of sovereignty the country has lost to the regional bloc. Immigration and its impact on jobs,… Read more »

Nigeria: Britain Votes On EU Membership After Tight and Bitter Campaign

Premium Times, 23 June 2016

Polling booths have opened across Britain as Britons decide the future of their country and Europe on Thursday in a vote on European Union membership after a bitter campaign that… Read more »

East Africa: A 'Brexit' May Have a Sunny Side for Tech

CIO, 23 June 2016

The tech industry mostly opposes the prospect of the U.K. exiting the European Union -- a view that's supported by polls and in statements. Read more »

East Africa: UK Referendum Vote Casts Shadow On Region's Economies

New Times, 23 June 2016

There is uncertainty how the region will weather away a possible fallout as Britain votes on whether to leave the European Union today. Read more »

Kenya: Will Britain's Exit From the EU Affect Kenya?

Capital FM, 22 June 2016

As the United Kingdom votes on Thursday whether to remain in the European Union or not, questions linger on the economic impact the decision will have on Kenya. Read more »

Africa: Brexit - Africans in the UK Share Their Views

Deutsche Welle, 22 June 2016

Despite the anti-immigrant rhetoric coming from the "Leave" campaign, not all British citizens of African decent believe that the UK should remain in the EU. Read more »

Africa: Not Politically Correct Reflections On Brexit

IPS, 17 June 2016

Allow me a rare personal anecdote. In 1965 I met Lord Hume, who had just left the post of Prime Minister and we had a mutual sympathy. Lord Hume invited me for lunch at the Chamber… Read more »

Africa: The Potential Impact of Brexit On Africa

Deutsche Welle, 19 June 2016

The UK referendum on whether to stay in the EU will have an impact far beyond Europe. Africans are also watching closely - and have to prepare to deal with the vote's consequences… Read more »

Ghana: Eurozone 'Weak', On Brink of Collapse - IMF

Business Day, 20 June 2016

The eurozone is on the brink of another financial crisis - but leaving the EU would still plunge Britain into recession, the IMF said last night. Read more »

Africa: Brexit Best for UK-Africa Ties, British Africa Minister Claims

RFI, 5 June 2016

Africa will benefit from a stronger relationship with the UK if Britain votes to leave the European Unon in this month's Brexit referendum, the British minister for Africa has told… Read more »

Africa: The British EU Referendum and Immigration

New Zimbabwe, 11 May 2016

To Be or not to be? That is the question that Britain faces regarding its membership of the European Union (EU). Read more »

Kenya: London Mayor Slammed for Obama Anti-British Label Due to Kenyan Roots

Capital FM, 22 April 2016

Trump lookalike and London Mayor Boris Johnson on Friday blasted "part-Kenyan" US President Barack Obama for opposing a Brexit - an exit from the European Union (EU) by Britain. Read more »

Africa: EU-UK Dilemma, but Africa's Worse Off

Premium Times, 28 February 2016

Today, the challenge in Africa remains how to get the continent to the ECA standard of four decades ago. The ECA story reads like fiction. But it is a true one, and if East Africa… Read more »

Kenya: Kenya to Feel the Pain of Britain's Possible EU Exit

Nation, 22 June 2016

Kenya is one of the countries at a high risk of being hit by economic shocks associated with Britain's plebiscite tomorrow on whether to dump or keep its membership in the European… Read more »

Nigeria: Brexit - FGN, UK May Reach New Agreements On Tariffs

This Day, 22 June 2016

As millions of Britons head to the polls tomorrow to decide whether there should be a British exit, or Brexit, from the European Union (EU), indications have emerged that a… Read more »

Africa: Brexit - What's in It for Africa?

New Times, 12 March 2016

It is well known how the European Union's Common Agricultural Policy subsidises EU farmers creating hurdles to competition, along with tariff barriers that make it very hard for an… Read more »