Sex Work in the Spotlight at #Aids2016
I'm a 37-year-old transwoman and have been a sex worker for the past 23 years. I advocate for the health and human rights of sex workers, and attending this conference is very important to me, writes Leigh Davids for Daily Vox.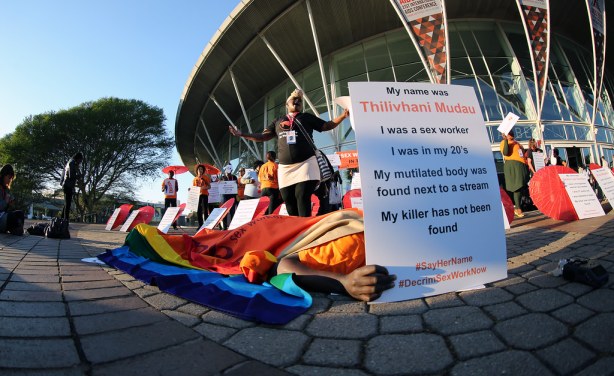 Activists for sex workers protesting outside the Durban ICC on the morning of the International AIDS Conference.
South Africa: Aids Conference - Spotlight On HIV and Sex Work

SAnews.gov.za, 19 July 2016

As scores of delegates gather in Durban this week for the 21st International AIDS Conference, the debate around decriminalising sex work to combat HIV infections has once again… Read more »

South Africa: How SA Got Its HIV Response Right

SAnews.gov.za, 19 July 2016

It was former President Nelson Mandela at the Aids conference in the year 2000, who used his influence to unite more than 12 000 delegates under one common goal. Read more »

South Africa: SA's HIV Response Restores Donor Confidence

SAnews.gov.za, 20 July 2016

South Africa's accelerated response to HIV has restored the confidence of international HIV/AIDS financing institution, The Global Fund, as well as the United States in the country… Read more »

South Africa: We Cannot Wait for Another Nkosi Johnson Moment to Scale Up the Response to HIV-Aids

The Daily Vox, 20 July 2016

HIV/AIDS continues to be one of the greatest challenges of our time. Yet there is a sinister silence on HIV/AIDS in our public dialogue. Any real discussion about the lives of… Read more »

South Africa: Government On Second Day of 21st International Aids Conference

Govt of SA, 20 July 2016

South African Government statement on day 2 of the 21st International Aids Conference Read more »

South Africa: Mark Heywood - Nodding Along to Protesters At #Aids2016 Is Not Enough

The Daily Vox, 19 July 2016

Mark Heywood, the director of social justice organisation Section27 and a board member of the Treatment Action Campaign addressed the media on the sidelines of the International… Read more »

South Africa: The Response to Aids Has Shown Another World Is Possible

Daily Maverick, 19 July 2016

We live in a nasty, fragmented, divided world, where hatred is more and more ruling the roost. Glorious bastards who have been pushed beyond the pale of civilised behaviour are on… Read more »

South Africa: Four Things We Need to Do to Stop the Spread of HIV in Young Women

The Daily Vox, 19 July 2016

Professor Salim Abdool Karim is a rockstar epidemiologist and infectious diseases specialist. We spoke to him to find out what the global community must do to reduce the rate of… Read more »

South Africa: From Illness to Health - How I've Thrived With HIV

GroundUp, 19 July 2016

Jaque Wambui was dangerously ill with extra-pulmonary tuberculosis in 2006 - here's why she hasn't been ill since Read more »

South Africa: Global Leaders Urged to Push for Aids-Free World

SAnews.gov.za, 19 July 2016

The 21st International AIDS Conference, which is underway in Durban, has started with powerful calls on all sectors of society around the globe to intensify the pursuit of an… Read more »

South Africa: SA Committed to Providing HIV Treatment

SAnews.gov.za, 19 July 2016

Deputy President Cyril Ramaphosa has once again reiterated government's commitment to provide life-saving HIV treatment to all those who need it. Read more »

South Africa: Millions of People Around the World Are Still Without HIV Treatment

The Daily Vox, 19 July 2016

More than 18,000 people opened the International AIDS conference in Durban on Monday, hailing progress against the disease but warning against complacency. Yet millions of people… Read more »

South Africa: Volunteers From Around the World Hope to Take Home Lessons From #aids2016

The Daily Vox, 19 July 2016

Thousands of delegates have descended on Durban for the 21st International AIDS Conference, held at the Durban International Convention Centre. The Daily Vox spoke to a group of… Read more »

South Africa: Deputy President Cyril Ramaphosa - Opening of 21st International Aids Conference

Govt of SA, 18 July 2016

Address by Deputy President Cyril Ramaphosa at the opening of the 21st International Aids Conference at the Inkosi Albert Luthuli International Convention Centre Read more »

South Africa: What Durban Forgets - Aids, Denialism and People Power

Daily Maverick, 19 July 2016

Lawyer and human rights activist FATIMA HASSAN recalls, some of the most significant developments in Aids activism over the years - as well as many of the hurdles it has had to… Read more »

Africa: Call for Robust Approach On HIV As Key Aids Conference Opens

New Times, 19 July 2016

Activists are concerned that lack of appropriate practices is stifling the overall global progress in the fight against HIV/AIDS. Read more »
InFocus
The 21st International AIDS Conference brings together leading scientists, public health experts, policy makers and the HIV-affected community. Read more »