South Africa in an Economic, Political Tailspin?
The announcement that Finance Minister Pravin Gordhan will be charged with fraud and theft has prompted a sharp fall in the country's currency and provoked dismay from market analysts, constitutional watchdogs and political commentators, says The Conversation.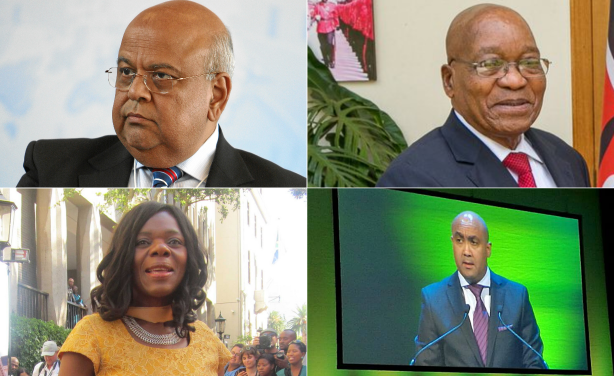 Finance Minister Pravin Gordhan, President Jacob Zuma, former public protector Thuli Madonsela and Shaun Abrahams, head of the National Prosecuting Authority.
Africa: Prexit - As South Africa Looks Over the Abyss Who Will Blink?

The Conversation Africa, 13 October 2016

Like the lemming that is about to throw itself off the proverbial cliff, South Africa appears unable to stop itself from preventing a self-inflicted act of such monumental folly… Read more »

South Africa: Truth (Lies) and Long-Term Consequences of the Probe Into Gordhan

Daily Maverick, 13 October 2016

It is becoming more and more clear that the decision, ostensibly by the National Prosecuting Authority, to issue a summons for Finance Minister Pravin Gordhan is going to have a… Read more »

South Africa: Public Called to Share Views On Budget

SAnews.gov.za, 9 October 2016

Finance Minister, Pravin Gordhan is inviting South Africans to share their views about economic conditions and other issues they would like government to highlight in the Medium… Read more »

South Africa: NPA Head Willing to Review Decision to Prosecute Gordhan, If Asked

News24Wire, 12 October 2016

National Prosecuting Authority (NPA) head Shaun Abrahams said while he was not the one who made the decision to prosecute Finance Minister Pravin Gordhan, he was willing to review… Read more »

South Africa: South African Academics - Uncertainty Affecting Nation Brand

SA Info, 7 October 2016

Indepth analysis by some of the country's top academics highlighted domestic issues influencing the reputation and competitiveness of the nation's brand, at a Brand South Africa… Read more »

South Africa: ANC Urges Gordhan to Co-Operate With NPA

News24Wire, 11 October 2016

Finance Minister Pravin Gordhan must fully co-operate with the NPA in order to bring the matter to finality as soon as possible, the African National Congress said in a statement… Read more »
InFocus
The Youth League of the ruling African National Congress and United Democratic Movement leader Bantu Holomisa have called for Finance Minister Pravin Gordhan's removal from Cabinet ... Read more »