46 Royal Guards Killed, King Arrested in Uganda
The army have said they attacked the palace of a local tribal king after the monarch refused government orders and an ultimatum of two hours to disband and disarm all royal guards.
Uganda: Clashes Kill Scores in Restive Ugandan Kingdom

Al Jazeera, 27 November 2016

At least 55 people have been killed in fierce fighting that erupted in western Uganda between security forces and a separatist militia linked to a tribal king, according to police. Read more »

Uganda: Deal With Militia Attacks Conclusively

Monitor, 28 November 2016

Early this year, a spate of militia attacks on two distant regions; coincidentally located on two major mountains - Mt Elgon and Mt Rwenzori - sent shivers and a bevy of questions… Read more »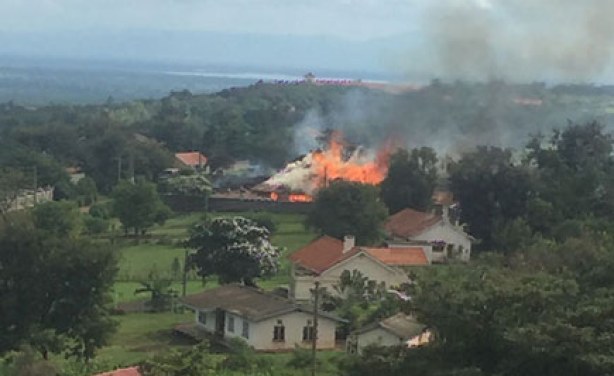 Restricted. Some of the houses in King Mumbere's palace were set ablaze during the attack in the palace.
Uganda: Media Must Uphold Accurate Reporting

Monitor, 29 November 2016

On Sunday, the beautiful grass-thatched roof of the gazebo at Watoto Church North - Ntinda collapsed. The heavy rain and wind was the cause of the fall. Chairs were broken and the… Read more »

Uganda: At Least 62 Killed in Uganda Fighting, Tribal King Mumbere in Custody

Deutsche Welle, 28 November 2016

Dozens of rebels and police officers have been killed in fighting in western Uganda. The conflict broke out near the palace of a tribal king who opposes Ugandan President Yoweri… Read more »

Uganda: 14 Police Officers Killed in Fresh Rwenzori Attacks

Monitor, 27 November 2016

At least 14 police officers are confirmed dead and more than 41 suspected attackers also killed in running battles between the two forces that cut across Kasese District in the… Read more »

Uganda: Family, Tribe Come Between Breaking and Enforcing Law

Monitor, 28 November 2016

No sooner had the police opened investigations into the fatal shooting of Kenneth Akena two weeks ago than red-hot corners of social media started asserting that detectives would… Read more »

Uganda: 46 Royal Guards Killed in Attack On Rwenzururu Palace

Monitor, 28 November 2016

The Uganda Police Force have confirmed that 46 royal guards were killed in an offensive at Obusinga Bwa Rwenzururu Palace in Kasese District on Sunday. Read more »

Uganda: Traditional King Arrested Over Deadly Clashes

East African, 27 November 2016

Ugandan traditional king Omusinga wa Rwenzururu Charles Wesley Mumbere was arrested Sunday following fresh clashes in the Rwenzori region Read more »

Uganda: Dozens Killed in Fighting Between Govt Forces and Tribal Militia

Deutsche Welle, 27 November 2016

Scores of people have died in battles between government forces and fighters of the Bakonzo tribe in a remote district near the Congo border. The men are protecting tribal king… Read more »

Uganda: Rwenzori Attacks - Gunshots Rock Kasese

Monitor, 26 November 2016

Gunshots rocked Kasese Town on Saturday as government forces jointly mounted an operation on people believed to be involved in the attacks in Rwenzori Sub-region. Read more »

Uganda: 55 Killed in Clashes

East African, 27 November 2016

At least 14 police officers and 41 suspected attackers were confirmed killed in running battles between the two forces that cut across Kasese District in Uganda's Rwenzori region… Read more »

Uganda: Eight Killed in an Attack in Kabarole

Monitor, 24 November 2016

Eight people have been killed in an operation that was carried out by the UPDF and Uganda Police Force in Kamabale A, and Karangura in Kabarole District. Police spokesperson for… Read more »

Uganda: Six Killed in Fresh Kabarole Ethnic Clashes

Monitor, 14 September 2016

Two policemen and four civilians have been killed in a suspected tribal clash in in Kabonero Sub-county Kabarole District. Read more »