West Africa's Mediation Team Heads to Gambia
President Muhammadu Buhari, lead mediator, and Liberian President Ellen Johnson-Sirleaf who is chairperson of Ecowas, are scheduled to meet Yahya Jammeh and President-elect Adama Barrow to continue discussions on the political situation in the country. The Gambia Mission also includes President Ernest Koroma of Sierra Leone and the immediate past President of Ghana, John Mahama, who is the co-mediator of The Gambian mission. Jammeh has refused to step down after losing the election to Barrow.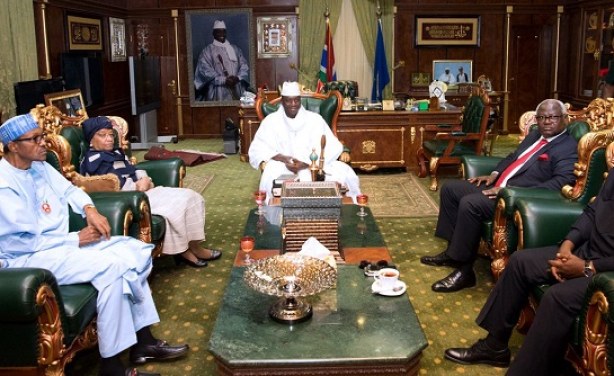 President Yahya Jammeh and ECOWAS leaders (file photo).
InFocus
The House of Representatives will debate a motion on granting asylum to Gambia's Yahya Jammeh in Nigeria as part of efforts to broker peace and ensure smooth transition in that ... Read more »

The army has denied reports that it was planning to attack Gambia, and remove Yahya Jammeh. Read more »