South Africa: Guptas Under Microscope for 'State Capture'
Oakbay Investments is a company owned by the brothers Gupta who are named in a "state capture" report released by former Public Protector Thuli Madonsela, in which they are accused of having undue influence on President Jacob Zuma, the appointment of ministers to key portfolios and allegedly acquiring stakes in businesses and state-owned enterprises by dubious means.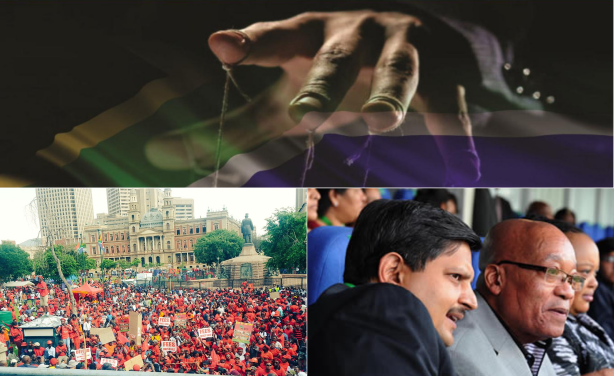 Top: Title image of the 'State of Capture' report. Bottom-left: EFF supporters protest in Church Square, Pretoria. Bottom-right: File photo of Atul Gupta and President Jacob Zuma. (file photo).
South Africa: Minister Sees the Light On Dubious Eskom, Gupta Relationship

IFP, 22 January 2017

The Inkatha Freedom Party supports the long overdue call made this weekend by Minister Lynne Brown into the establishment of a commission of inquiry into the questionable and quite… Read more »

South Africa: Gupta Allies Buying Bank Face Intense Scrutiny

News24Wire, 17 January 2017

Gupta allies Salim Aziz Essa and Hamza Farooqui will require Finance Minister Pravin Gordhan's sign-off to buy Habib Overseas Bank in a deal worth R450m. Read more »

South Africa: Alleged Gupta, SABC Deals Should Be Canned, If True - Leaked Document

News24Wire, 18 January 2017

Alleged improper deals between the SABC and the Gupta-owned The New Age Media should be probed and, if there has been wrongdoing, be terminated. Read more »

South Africa: Oakbay Investments Calls on the High Court to Dismiss Pravin Gordhan's 'Bizarre' Application

Oakbay Investments, 20 January 2016

Van der Merwe & Associates, lawyers for Oakbay Investments, submitted an affidavit to the High Court in Pretoria in response to the application by Pravin Gordhan, the Minister… Read more »
InFocus
ANC Secretary-General Gwede Mantashe has said that the ruling party needs to have a candid debate on state capture as Public Protector Thuli Madonsela's probe into overt political ... Read more »

The Gupta family has said that an affidavit filed by Finance Minister Pravin Gordhan over 72 "suspicious" transactions worth R6.8 billion will give them the opportunity to clear ... Read more »