South Africa Waits as Cyclone Dineo Wreaks Havoc in Mozambique
Cyclone Dineo made landfall on the southern Mozambique coast, north of Inhambane and is now progressing to South Africa's Limpopo and Mpumalanga Provinces where residents are bracing themselves for widespread flooding.
Video
Author:

News24.com

Publisher:

Publication Date:

15 February 2017

Cyclone Dineo has reached Mozambique and has left destruction in its wake as it heads to South Africa where Limpopo and Mpumalanga Provinces are ... see more »
Zimbabwe: Govt On High Alert Over Dineo

The Herald, 17 February 2017

Government is ready to render assistance and respond to emergencies that may arise as a result of tropical depression Dineo, which is likely to hit the country tonight as it has… Read more »

Mozambique: Child 'Killed By Falling Tree', As Cyclone Dineo Hits

News24Wire, 16 February 2017

A child has been killed by a falling tree in the southern town of Massinga, as cyclone Dineo hit Mozambique, a report said on Thursday. Read more »

Southern Africa: Four Dead in Wake of Cyclone Dineo

News24Wire, 16 February 2017

Mozambican media are reporting that four people, including a child, have died as a result of tropical cyclone Dineo. Read more »

Southern Africa: Authorities Warn Residents As Dineo Bears Down On Mozambique

News24Wire, 15 February 2017

Mozambican authorities have warned people in provinces of Inhambane and Gaza to brace for the arrival of category 4 tropical cyclone Dineo on Wednesday evening. Read more »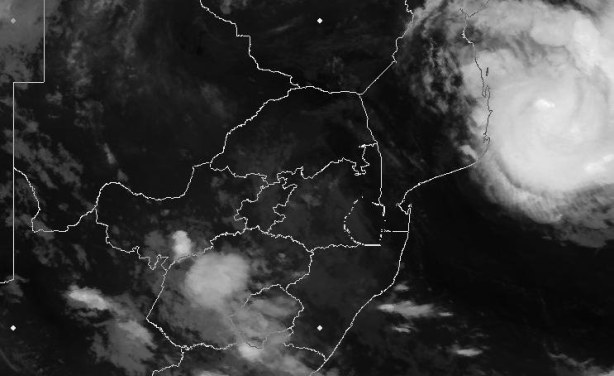 Dineo (top right of image) made landfall in Mozambique's southern coast.