Does EU's Have a Double Standard Policy Towards Eritrea?
The alleged hypocrisy of European Union towards the rest of the world has been tested practically in Eritrea in the last 20 years, it revealed that it has been playing double-standard politics by claiming it stands for humanity but what it do in reality is the other way round, writes Zeray Hailemariam for The Ethiopian Herald.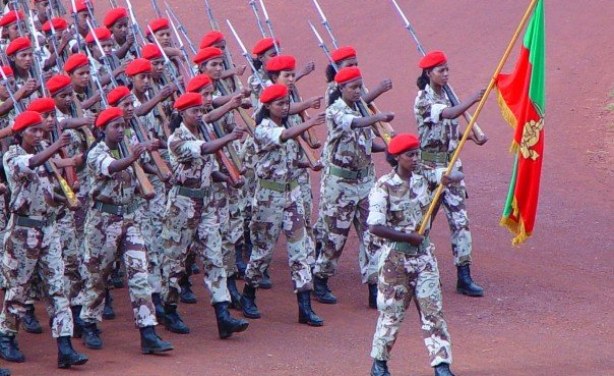 Soldiers of Eritrea (file photo).
Eritrea: Eritrean Nationals Commemorate Operation Fenkil

Shabait, 16 February 2017

Eritrean nationals residing in Mannheim, Germany, commemorated the 27th anniversary of Operation Fenkil on 10 February under the theme "Fenkil: Precursor of the Final Phase". Read more »

Eritrea: Eritrean Community Schools in Kassala Offering Commendable Service

Shabait, 14 February 2017

Eritrean Community schools established in Kassala region, Sudan, which has been providing educational service to Eritrean nationals has been instrumental in nurturing the national… Read more »

Eritrea: Eritrean Delegation Participates At AU Summit

Shabait, 2 February 2017

Eritrean delegation headed by Ambassador Araia Desta, Eritrea's Permanent Representative to the African Union and UN Economic Commission for Africa , has participated in the 28th… Read more »

Eritrea: Senior Eritrean Delegation Concludes Visit to Russian Federation

Shabait, 1 February 2017

Senior Eritrean delegation headed by Foreign Minister Osman Saleh along with Mr. Yemane Gebreab, head of PFDJ Political Affairs, and Mr. Hagos Ghebrehiwet, head of PFDJ Economic… Read more »