Zimbabweans Gather for Mugabe's Birthday Bash
President Robert Mugabe, who turned 93 this week, celebrates his birthday with a lavish party attended by thousands of loyalists outside Bulawayo.
Zimbabwe: Cowboy Hats, Cake and a Cooler Box - Mugabe's Birthday Highlights

News24Wire, 25 February 2017

First Lady Grace Mugabe led thousands of revellers in singing Happy Birthday to her visibly tired husband, Zimbabwe's longtime ruler Robert Mugabe on Saturday at a party to mark… Read more »

Zimbabwe: What The Stars Hold for Mugabe: Craziness, Thrift, Dates With Grace

allAfrica, 20 February 2017

As President Robert Mugabe's birthday draws near, we wanted to share some predictions for this 93-year-old long-time leader's life. Read more »

Zimbabwe: 'I Thank God for This Long, Long Journey' - Mugabe, 93

News24Wire, 25 February 2017

A pensive Robert Mugabe in a cowboy hat has told revellers at his 93rd birthday party that he thanks God for the "long long journey" of his life. Read more »

Zimbabwe: #Bob93 - Eight Surprising Things You Didn't Know About Robert Mugabe

News24Wire, 25 February 2017

Heard of the president who always made sure to buy his little daughter uniforms from Marks and Spencer each time he made a trip to London? Read more »

Zimbabwe: 21st Feb Carnival Livens Up Matobo

The Herald, 25 February 2017

President Mugabe arrives in Bulawayo this morning for the 21st February Movement celebrations which roar to life at the Rhodes Estate Preparatory School (REPS) in Matobo District,… Read more »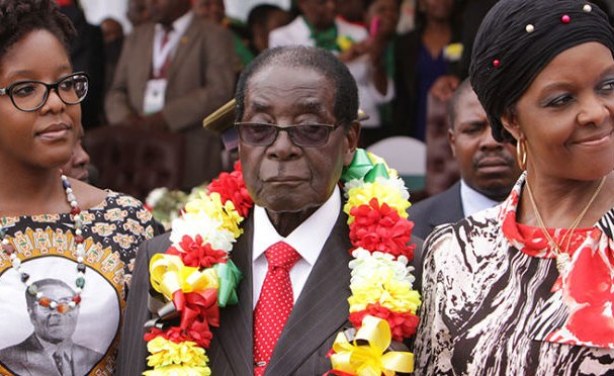 Mugabe's lavish birthday bash (file photo).