Moyo Blasts Zimbabwean Govt Newspaper Over 'Fake News'
Higher and Tertiary Minister Jonathan Moyo has accused The Herald newspaper of carrying out a vilification campaign against him at the order of Vice President Emmerson Mnangagwa. Moyo is reportedly determined to stop Mnangagwa from succeeding the 93-year-old President Robert Mugabe but Mnangagwa seems to be fighting back through the state newspaper.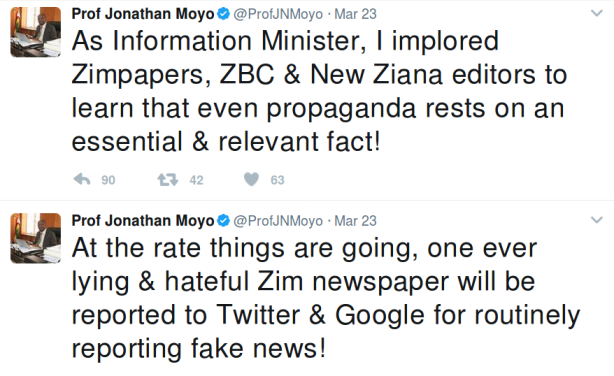 Minister Moyo Moyo rails against The Herald.
Zimbabwe: In Depth - Why Is Mugabe's Ex-Spin Doctor So Mad These Days?

News24Wire, 28 March 2017

Who's a command liar then? Read more »

Zimbabwe: No Amount of Vilification Will Intimidate Me to Move From Truth to Lies - Moyo

The Herald, 27 March 2017

This statement is pursuant to the lead story in today's Sunday Mail headlined, "Prof Moyo benefited from Command Agric." In the afternoon of Friday 24 March 2017, I had a chance… Read more »

Zimbabwe: Command Agriculture, Command Economy - a Silent Coup Brewing

Zimbabwe Standard, 26 March 2017

Vice-President Emerson Mnangagwa recently announced intentions to expand the command agriculture scheme into "command mining", "command health" and even "command education". Read more »

Zimbabwe: Mugabe's Nephew Zhuwao Savages 'Idiotic' War Vets Leader Mutsvangwa

New Zimbabwe, 20 March 2017

YOUTH minister Patrick Zhuwao has scorned war veteran's leader Chris Mutsvangwa, telling his former cabinet colleague that it was his constitutional right to be an idiot. Read more »

Zimbabwe: Pro-Mnangagwa MP Slams Party Cults

New Zimbabwe, 14 March 2017

AN ally of Vice President Emmerson Mnangagwa has placed First Lady Grace Mugabe among those with the most realistic chances of succeeding President Robert Mugabe. Read more »