AfDB President Concludes Official Mission to India
President Akinwumi Adesina of the African Development Bank (AfDB) left Ahmedabad, India, Monday at the end of a four-day official visit to India. The visit has set the stage for improved cooperation between the Bank and India, as well as India's relations with Africa in general. This year's annual AfDB meeting will take in Ahmedabad, India from May 22 to 26.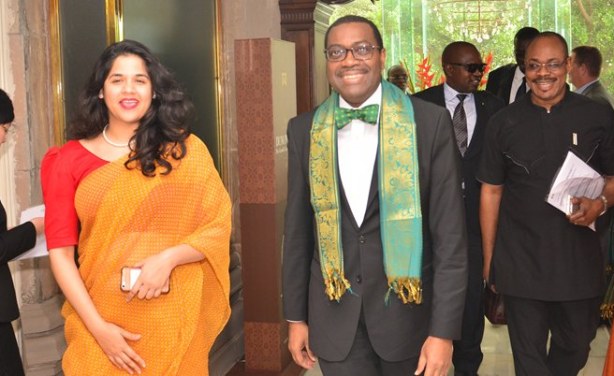 The delegation met with the African Diplomatic Corps in India and participated in interactive sessions with Indian business leaders, which identified business opportunities in Africa, especially in infrastructure, energy and agriculture.
Africa: Adesina Visits Mahatma Gandhi's Home in Ahmedabad, Extols His Exceptional Humanity

African Development Bank, 3 April 2017

The President of the African Development Bank Group (AfDB), Akinwumi Adesina, has paid glowing tribute to India's preeminent statesman, Mahatma Gandhi, saying that his work and… Read more »

Africa: AfDB Bullish On Africa-India Cooperation - Adesina

African Development Bank, 31 March 2017

An African Development Bank delegation led by its President, Akinwumi Adesina, held a day-long interactive meeting with Indian CEOs on Friday in New Delhi, focusing on the… Read more »

Africa: President Adesina Leads AfDB Mission to India Ahead of 2017 Annual Meetings in Ahmedabad

African Development Bank, 28 March 2017

New Delhi, India, March 28, 2017 - The President of the African Development Bank Group (AfDB) Akinwumi Adesina and Senior Official of the Bank will make a four-day official visit… Read more »
InFocus
The 2017 Annual Meetings of the African Development Bank (AfDB) Group--the Bank's largest annual event--will be held on May 22-25, 2017 in Ahmedabad, India. The theme of the ... Read more »