South Africa's Opposition In United Front Against President
In an unprecedented show of cooperation the official opposition Democratic Alliance will join the Economic Freedom Fighters, the Congress of the People, the African Christian Democratic Party and others, in mobilizing their members in a march to the Union Buildings in Pretoria, while also preparing for a vote-of-no-confidence motion against President Jacob Zuma on April 18, 2017.
South Africa: Pretoria Marchers in High Spirits, Despite Gloomy Weather

News24Wire, 12 April 2017

Thousands of marchers have gathered in Pretoria's Church Square, singing and dancing to shake off the grey clouds above them, as various political parties prepare to march to the… Read more »

South Africa: 'If Not Wanting Zuma Is Racism, Then We Are Racist' - Malema

News24Wire, 12 April 2017

If President Jacob Zuma wants to label those calling for him to step down racists, then so be it, EFF leader Julius Malema said on Wednesday. Read more »

South Africa: Opposition Parties - We're Together Until Zuma Goes

Daily Maverick, 11 April 2017

In an unprecedented show of unity, all but two opposition parties will march on the Union Buildings on Wednesday calling for President Jacob Zuma to be recalled. The demonstration… Read more »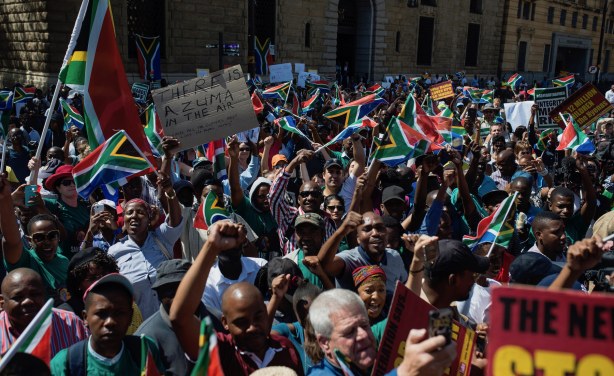 Protests outside the Treasury after President Jacob Zuma's cabinet reshuffle (file photo).
InFocus
The protests were national, calling on President Jacob Zuma to step down after he fired several ministers, including finance minister Pravin Gordhan and his deputy Jonas Mcebisi. Read more »

In what are probably the most widespread anti-government protests in South Africa since the establishment of democracy in 1994, tens of thousands took to the streets in city ... Read more »