Namibian President Kicks Off Zimbabwe State Visit With Mugabe
President Robert Mugabe has welcomed the President of Namibia Hage Geingob with a lavish state banquet. On his three-day state visit, Geingob is expected to officially open the 2017 edition of the Zimbabwe International Trade Fair in Bulawayo.
Zimbabwe: Govt, Namibia Sign Three MOUs

The Herald, 27 April 2017

Zimbabwe and Namibia yesterday signed three Memoranda of Understanding in the areas of women, gender and community development, health and sport and recreation. President Mugabe… Read more »

Zimbabwe: Govt, Namibia Commit to Cooperation

The Herald, 25 April 2017

Zimbabwe and Namibia should implement cooperation agreements signed between the two countries and make necessary adjustments taking into account emerging issues and areas where… Read more »

Namibia: President Off to Zimbabwe for State Visit

New Era, 25 April 2017

President Hage Geingob is scheduled to depart for Zimbabwe tomorrow for a state visit that will see bilateral discussions and interaction with the business sector. Read more »

Namibia: Geingob to Visit Zimbabwe This Week

Namibian, 25 April 2017

PRESIDENT Hage Geingob will embark on a three-day state visit to Zimbabwe this week. Read more »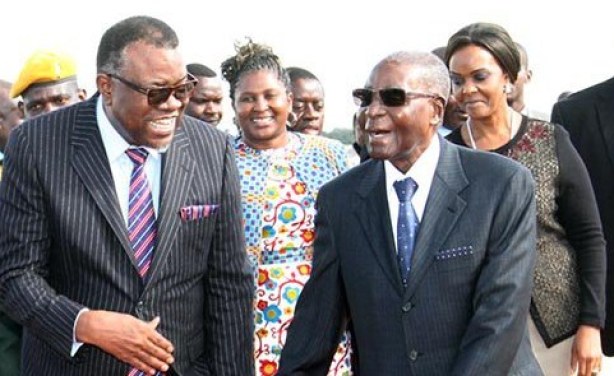 President Mugabe and his Namibian counterpart Hage Geingob and First Ladies Grace Mugabe and Monica Geingob at Harare International Airport.