Lutheran Assembly in Namibia Marking 500 Years of Reformation
Lutherans from around the world are meeting in the Namibian capital Windhoek for the 12th Assembly of the Lutheran World Federation (LWF). About 800 particpants are commemorating the 500 years since Martin Luther issued NinetyFive Theses critiquing the Roman Cathloic Church, a protest that led to the 'Reformation' and the emergence of Protestant denominations.
A majority of Namibians belong to the three Lutheran churches in the country. The Reformation commemoration sermon will be delivered by Bishop emeritus Dr. Zephania Kameeta, a former LWF vice president who is currently heading Namibia's poverty eradication ministry. #LWFAssembly | Live Streams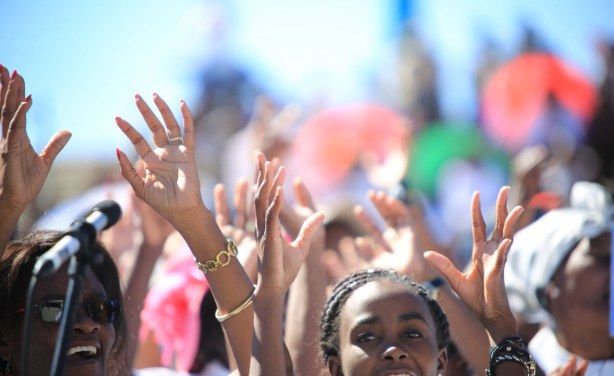 Global Lutherans celebrate 500 years in Windhoek, where thousands filled Sam Nujoma stadium to take part in worship. #lwfassembly
Dr. Zephania Kameeta, Minister of Poverty Eradication and Social Welfare, is Bishop emeritus of one of three Lutheran Churches in Namibia hosting the Lutheran World Federation Assembly this month.
Video
Publisher:

Publication Date:

8 May 2017

Youth participants at the Asia Pre-Assembly in Bangkok, Thailand, offered a song about the theme and sub-themes of the Assembly. It was performed ... see more »
Documents
Author:

The Lutheran World Federation

Publisher:

Publication Date:

24 April 2017

In a concerted effort to respond to the theological misconception of the interpretation of poverty, the churches of the communion of the Lutheran ... see more »