Ugandan Activist Stella Nyanzi Granted Bail After 33 Days in Jail
The Makerere University academic is facing charges of insulting the president because she referred to him as a "pair of buttocks" on her social media.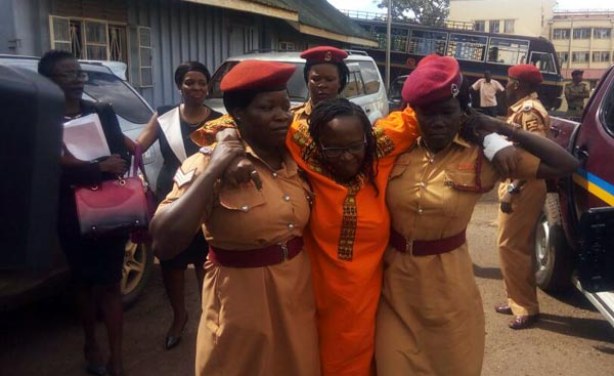 Stella Nyanzi arrives at court supported by prison warders. She told court she was not feeling well.
Uganda: 33 Days Later - Stella Nyanzi Granted Bail

Observer, 10 May 2017

After 33 days in detention, Makerere University researcher Dr Stella Nyanzi has been granted bail by Buganda Road Magistrates court. Read more »

Uganda: Dr Stella Nyanzi Released on Bail

Monitor, 10 May 2017

Dr Stella Nyanzi, a Makerere University research fellow charged with cyber related crimes has been released on bailBuganda Road Court today (Wednesday) granted Dr Nyanzi a noncash… Read more »

Uganda: Police Arrest Makerere Students for Protest Over Dr Nyanzi Trial

Monitor, 10 May 2017

Four Makerere University students have been arrested at Buganda Road Magistrate's Court where they had gone to attend the hearing of a case against Dr Stella Nyanzi who is charged… Read more »

Uganda: Stella Nyanzi Petitions Constitutional Court Over Her Mental Examination

Monitor, 10 May 2017

Remanded Makerere University research fellow, Dr Stella Nyanzi has arrived at Buganda Road Magistrates a day after she petitioned the Constitutional Court challenging the legality… Read more »

Uganda: On Museveni and Stella Nyanzi

Independent (Kampala), 8 May 2017

Dr. Stella Nyanzi, an academic at Makerere University, has been jailed for using foul language to criticise President Yoweri Museveni and his wife, Janet. It is permissible to call… Read more »

Uganda: Stella Nyanzi Entitled to Her Opinion - U.S. Ambassador

Observer, 8 May 2017

I am pleased to join you all today as we mark this year's World Press Freedom day. Read more »

Uganda: A 'Pair of Buttocks' Good for Growth of Uganda's Literature

Monitor, 2 May 2017

There are more thrilling fistfights in Kenya's literary scene than there is in Uganda's. The Kenya literary boxing bouts mostly take place in the pages of the Saturday Nation. Read more »

Uganda: Activists Challenge Law Used to Charge Stella Nyanzi

Observer, 28 April 2017

The law under which Makerere University researcher was charged at the Buganda Road court has been challenged at the Constitutional court by the FDC's chairperson for Katikamu South… Read more »

Uganda: Social Media Campaign Calls for Release of Arrested Ugandan Activist

News24Wire, 27 April 2017

Ugandan activist Stella Nyanzi has reportedly been remanded in custody until next month, as a social media campaign calling for her release kicked off in the east African country. Read more »
InFocus
An attempt by the Makerere University academic and social activist to avoid the "humiliating" mental examination has failed and her bail was denied pending the results. Nyanzi is ... Read more »

The social activist and Makerere university academic has returned to court seeking bail while fighting the state's intention to send her for mental examination before considering ... Read more »

Lawyers representing Makerere University lecturer Stella Nyanzi have protested a move by the state to subject her to medical examination to establish her sanity under a 1938 ... Read more »
Uganda: I'm Mistreated in Prison - Stella Nyanzi

Observer, 26 April 2017

Makerere University researcher Stella Nyanzi, who is facing charges that include calling President Museveni "a pair of buttocks" on Facebook, has complained of mistreatment at… Read more »