These Galaxies and Stars Were Captured by South Africa's SKA
Images captured using various configurations of the 32 antennas currently operational in the Square Kilometre Array in the Karoo have been released to Science and Technology Minister Naledi Pandor.
MeerKAT in the Northern Cape provides a magnificent view of the hydrogen gas in M83, a famous galaxy discovered in Cape Town in 1752.

Large scale bubbles and arcs seen with MeerKAT show stellar nurseries (where stars are born) in the Milky Way. For comparison, the previous best image of this star­‐forming region is shown at bottom left, obtained with the Australia Telescope Compact Array (ATCA). The MeerKAT image (top) is sharper and more sensitive, and shows fainter features with additional detail.

MeerKAT identifies a new Giant Radio Galaxy. Infrared emission in blue and MeerKAT radio emission in orange. MeerKAT images typically show radio galaxies in the distant universe. A small number of these galaxies are gargantuan in size.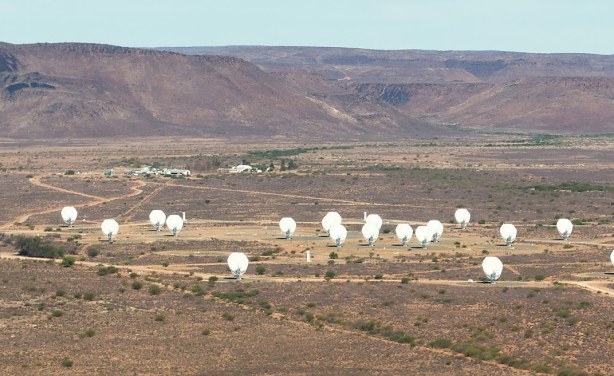 Part of South Africa's MeerKAT radio telescope.