Watchdog Condemns Beatings, Evictions on Grace Mugabe's Farm
The Human Rights Watch has condemned the harassment of 200 families by anti-riot police, allegedly beaten, and ordered off a farm linked to First Lady Grace Mugabe. The watchdog's violation probe against Mugabe's wife has hit a brick wall as government officials have allegedly refused to co-operate.
Zimbabwe: Evictions, Beatings At Mugabe-Linked Farm

HRW, 23 May 2017

Anti-riot police have harassed, beaten, and ordered some 200 families off a farm linked to President Robert Mugabe's family, Human Rights Watch said today. The police affirmed in a… Read more »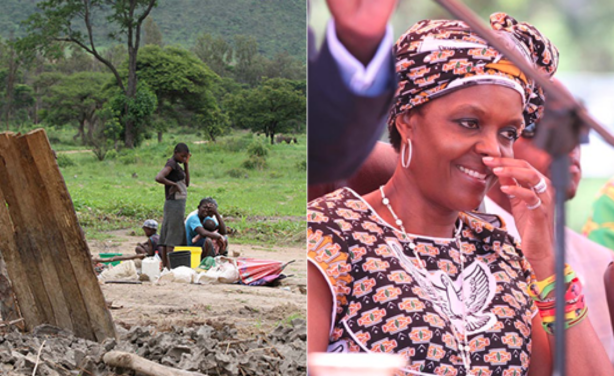 From left, one of the families affected by the evictions and Grace Mugabe, right.
Zimbabwe: 'Villagers On Grace Mugabe Farm Beaten On Soles of Feet'

News24Wire, 24 May 2017

Riot police knocking down homes on a farm taken over by Zimbabwe first lady Grace Mugabe tied a rope round the cottages and used a truck to pull them down, Human Rights Watch is… Read more »

Zimbabwe: Grace Mugabe Ousts Arnold Land Dwellers

New Zimbabwe, 22 April 2017

While hundreds of people were evicted by police and soldiers from land taken by first lady Grace Mugabe, nine have gone to court seeking to charge Home Affairs Minister Ignatius… Read more »

Zimbabwe: Cops Evict Villagers to Make Way for First Lady

CAJ News, 11 April 2017

HUMAN rights groups have condemned police brutality after scores of villagers in northern Zimbabwe had their properties burnt before they were forced out of a farm to make way for… Read more »

Zimbabwe: First Lady Evictees Seek SADC Intervention - Report

News24Wire, 18 April 2017

More than 100 families, who are being evicted from their farm homes by Zimbabwe's first lady Grace Mugabe, have urged the Southern African Development Community to intervene, a… Read more »

Zimbabwe: First Lady Evictions - Opposition Urges Govt Intervention

New Zimbabwe, 12 April 2017

PROFESSOR Welshman Ncube's MDC has urged government intervention into alleged rights abuses by President Robert Mugabe's wife, Grace who is accused of instigating the eviction of… Read more »

Zimbabwe: Probe Against Mugabe's Wife Halted By Govt Officials - Report

News24Wire, 13 April 2017

A human rights violation probe against Zimbabwean First Lady Grace Mugabe has reportedly hit a brick wall - as government officials have allegedly refused to co-operate with a… Read more »

Zimbabwe: Villagers Evicted, Beaten By Police Under First Lady's Order?

New Zimbabwe, 11 April 2017

SEVERAL people were beaten up and left for dead by riot police last Friday as farmers evicted from a property in Mazoe district tried to return to the property which has been taken… Read more »
InFocus
Despite a Zimbabwean court ruling against First Lady Grace Mugabe's demolishing villagers' houses and evicting them from a farm , the police, under the First Lady's order, ... Read more »