Magufuli's Probe Unearths Thievery of Mining Firms in Tanzania
A probe team formed by President John Magufuli to investigate the amount of copper and gold contained in mineral sand and its value, has revealed that the country has been losing trillions of shillings in revenue.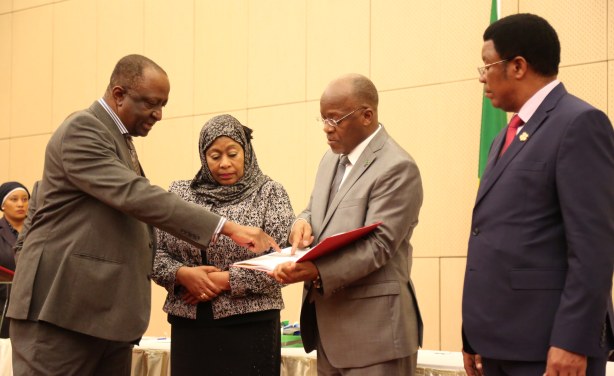 President John Magufuli gets clarification from the chairperson of a committee formed to probe the contents in mineral sand Prof Abdulkarim Mruma, soon after receiving the report at the State House in Dar es Salaam. Looking on are Vice-President, Ms Samia Suluhu Hassan and Prime Minister, Mr Kassim Majaliwa.
Tanzania: Sand Report Opens Can of Worms

Daily News, 25 May 2017

President John Magufuli, yesterday, fired the Minister of Energy and Minerals Prof Sospeter Muhongo, dissolved Tanzania Minerals Audit Agency (TMAA) Ministerial Advisory Board… Read more »
InFocus
The firm has reiterated that it fully declares everything of commercial value that it produces and says that it pays all appropriate royalties and taxes on all of the payable ... Read more »

The president is regarded as a no-nonsense leader and has lived up to his reputation by taking action against officials implicated in the scandal of allowing mineral sand to be ... Read more »