Namibia Mourns Iconic Freedom Fighter Imprisoned With Mandela
Along with the late South African freedom fighter Nelson Mandela, Andimba Toivo ya Toivo was incarcerated on the notorious Robben Island Prison, where he was imprisoned for a period of 16 years, enduring long periodsa of solitary confinement and other forms of harsh treatment, the Namibian writes in the report on his passing on June 9. President Hage Geingob announced Monday that Toivo will be accorded a state funeral in Heroe's Acre, the memorial grounds where leaders of the liberation struggle against South African rule are buried.
Namibia: The North Says Farewell to Ya Toivo

New Era, 19 June 2017

The moods at Ondangwa Trade Fair grounds on Friday kept shifting, as one moment it was sombre and the next the crowd would burst into uncontrollable laughter. At times though there… Read more »

Namibia: Thinking About a Nation With Toivo

Namibian, 16 June 2017

HERMAN Andimba Toivo ya Toivo, a martyr leader in our fight for freedom, departed earth a few days ago - surely content, but also exasperated about the state of our nation. Read more »

Namibia: Speaker Extols Fallen Struggle Icon

New Era, 14 June 2017

Speaker of the National Assembly, Professor Peter Katjavivi, has described the late struggle stalwart Andimba Toivo ya Toivo as a selfless and dedicated leader who defended social… Read more »

Namibia: World Mourns Death of Liberation Icon Ya Toivo

New Era, 12 June 2017

Words of admiration flowed in from freedom fighters, heads of state and many more including South African political parties and other African organisations for Namibia's revered… Read more »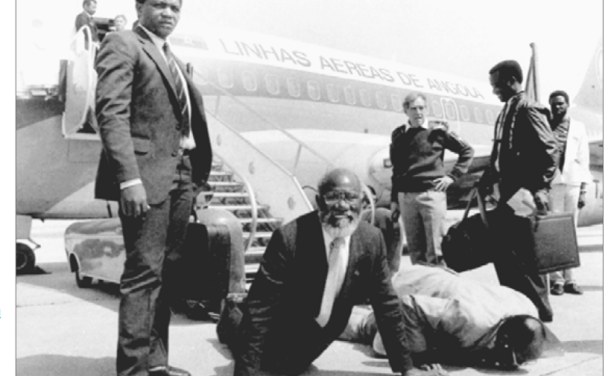 Andimba Toivo ya Toivo is seen kissing the Namibian soil upon his return in 1989. To his left is the late Swapo Party chairman David Meroro (file photo).
Documents
Author:

The Namibian

Publisher:

Publication Date:

12 June 2017

Along with the late South African freedom figther Nelson Mandela, Ya Toivo was incarcerated on the notorious Robben Island Prison, where he was ... see more »
Namibia: Herman Andimba Toivo Ya Toivo - the Timeline

New Era, 12 June 2017

He Passed Away At the Age of 9222 August 1924: Born at Omangundu village newe Ondangwa Read more »

Namibia: Ya Toivo Appeared Fit At His Last Public Event

New Era, 12 June 2017

As the news spread like wildfire on Friday evening one could not help but wonder how the political icon Andimba Toivo ya Toivo suddenly passed on as he seemed so well and fit… Read more »

Namibia: Foundation Sends Condolences On the Passing of Andimba Toivo ya Toivo

NMF, 10 June 2017

The Nelson Mandela Foundation sends its condolences to the family, comrades and friends of Namibian freedom fighter, Andimba Toivo ya Toivo who has passed away at the age of 92. Read more »

Namibia: #RIPToivoYaToivo - Namibian Hero Toivo Is No More

Namibian, 9 June 2017

STRUGGLE icon and former Robben Island prisoner, Herman Andimba Toivo ya Toivo, has died today. Read more »

Namibia: Shityuwete Remembers His Leader, Teacher

Namibian, 11 June 2017

Former Robben Island prisoner Helao Shityuwete was at pains on Saturday to accept the death of personal friend and comrade in the liberation struggle, Herman Andimba Toivo Ya… Read more »

Namibia: He Was a Straightforward Man - Guiteb

Namibian, 11 June 2017

A 75-year-old man, who spent eight years in the Robben Island prison with the late Herman Andimba Toivo ya Toivo, has urged young Namibians to emulate his humility and respect for… Read more »