#GuptaLeaks - Time for the Guilty to Press the Panic Button?
Individuals guilty of state capture may fear their political survival is at stake and that they have no further use to the Gupta family who have a "grip on the state" and "control of government leaders", writes Ranjeni Munusamy of the Daily Maverick.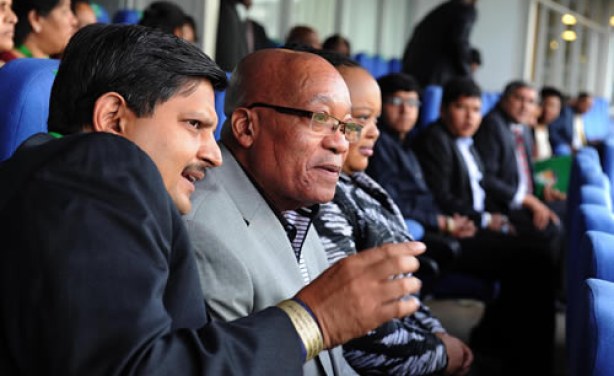 President Jacob Zuma and Atul Gupta (file photo).
South Africa: EFF Takes On #Guptaleaks With Gigaba in the Crosshairs

Daily Maverick, 9 June 2017

Why did Malusi Gigaba, when he was Minister of Public Enterprises, tell Denel to continue with the procurement of locomotives, even though it was illegal to do so, and instructed… Read more »

South Africa: #GuptaLeaks - Delhi Daredevils Staff Member Contacted Guptas for Visa Assistance

Daily Maverick, 12 June 2017

Leaked emails show that a visa application for somebody connected to the Delhi Daredevils cricket team was expedited when the side made it to the semi-finals of the Champions… Read more »

South Africa: Scorpio and Amabhungane #GuptaLeaks - Emails Offer Further Proof of Gupta Racist Attitudes

Daily Maverick, 9 June 2017

Reports of racism from the Gupta family have surfaced before, notably in the aftermath of the 2013 Sun City wedding when it was alleged that the Guptas insisted on having only… Read more »

South Africa: Guptas a Stumbling Block for the Revolution - Mayor

News24Wire, 10 June 2017

African National Congress national executive committee member and Ekurhuleni Mayor Mzwandile Masina has hit out at the party's alliance partners, the MK [Umkhonto WeSizwe] Council… Read more »
InFocus
EFF leader Julius Malema has taken on all of South Africa's current controversies during one press conference - tackling #GuptaLeaks, allegations of corruption at Transnet, the ... Read more »

The Daily Maverick's Scorpio investigative unit has reportedly uncovered that Duduzane Zuma, President Jacob Zuma's son, was given residency in Dubai in the United Arab Emirates ... Read more »