Acholi MPs to Boycott Ugandan Parliament Over Land Violence
The legislators have issued a one-week ultimatum to the government seeking a solution to the conflict between the Acholi and Madi communities. Their threats follow last week's attacks over disputed Apaa land in the Zoka village that claimed six lives and left 21 people severely injured.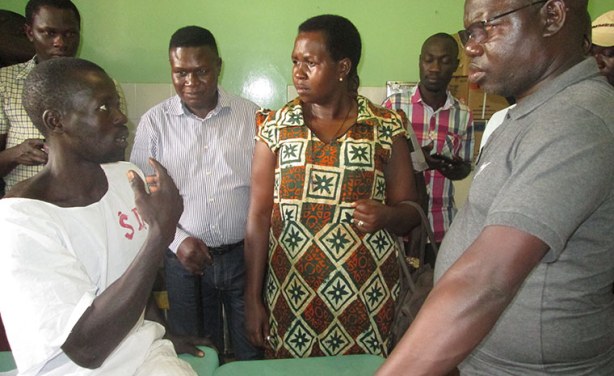 MPs and officials listen to one of the victims at St Mary's hospital Lacor.
Uganda: Apaa Land Conflict Divides Acholi, Madi Communities

Observer, 14 June 2017

What started as a small misunderstanding has escalated to reach deadly levels with several locals blaming government for turning a blind eye to this nearly century-old conflict,… Read more »

Uganda: Apaa Land Dispute - Acholi MPs to Boycott Parliament

Monitor, 13 June 2017

A section of Legislators from Acholi Sub-region under their umbrella body, Acholi Parliamentary Group [APG], have threatened to boycott parliamentary sittings if the government… Read more »

Uganda: Govt At Crossroads Over 'Bloody' Apaa Land Violence

Monitor, 14 June 2017

In April 2015, elderly women in Apaa Parish, Paboo Sub-county in Amuru District undressed before the then Lands minister, Mr Daudi Migereko, and former Internal Affairs minister,… Read more »

Uganda: Acholi and Madi Should Be Each Other's Keeper

Monitor, 14 June 2017

On July 9, 2014, Daily Monitor carried an editorial titled: 'Emulate Acholi, Madi on ethnic conflicts'. We then praised the Acholi and Madi for burying their differences over a… Read more »
InFocus
The Adjumani leadership is pushing for talks to end the bloodshed in which an attack by a gang of men armed with machetes, arrows and bows left four dead, 21 badly injured and over ... Read more »

The land at the centre of controversy was demarcated in September 2015 by the government and handed to the Adjumani District local government. Read more »