64 Athletes to Represent Kenya in the World U18 Championships
The IAAF World Under-18 Championships Nairobi 2017 will be the first global track and field championships to be held in Kenya. The event will run from July 12-16 at the Moi Sports Centre Kasarani.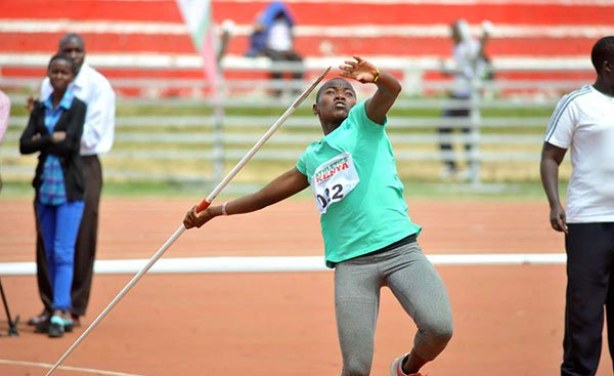 Cynthia Chebet makes a thrown during the World Under -18 Championship trials at Nyayo Stadium .
Kenya: IAAF Impressed With Preparations for World U18 Championships

Capital FM, 14 June 2017

IAAF CEO Olivier Gers is this week in the Kenyan capital for a site visit ahead of next month's IAAF World U18 Championships Nairobi 2017. Read more »

Kenya: Samson, Chebet Book World U-18 Championship Slots

Nation, 13 June 2017

National Secondary Schools race walk champion Dominic Samson and javelin thrower Cynthia Chebet won their respective events on Tuesday to storm the World Under-18 Championships… Read more »

Kenya: Japan Withdraws From 2017 World Under-18 Championships

Nation, 12 June 2017

Japan becomes the latest country to withdraw from the World Under-18 Championships due for July 12-16 at Kasarani, Nation Sport understands. Read more »

Kenya: AK Pushes Athletes Vetting to Tuesday as Trials Begin

Nation, 12 June 2017

Athletics Kenya on Monday pushed vetting of athletes to Tuesday to avoid cheating as the country prepares to select a team for next month's World Under-18 Championships. Read more »

Kenya: Over 400 for World Under-18 Trials at Nyayo

Nation, 12 June 2017

World Under-20 5,000m bronze medallist Wesley Ledama is among 400 athletes set to battle it out for places in Team Kenya at the World Under-18 trials starting on Tuesday at the… Read more »

Kenya: Trials for World U18 Set for Tuesday and Wednesday at Nyayo

Capital FM, 10 June 2017

Over 400 athletes will be seeking to earn selection when Athletics Kenya (AK) conducts Trials for the IAAF World U18 Championships on Tuesday and Wednesday at the Nyayo National… Read more »

Kenya: Kasarani Running Track Finally Here, and It's Blue

Nation, 8 June 2017

The laying of the new competition and training tracks at Kasarani, the venue of the World Under-18 Championships will be complete in two weeks. Read more »

Kenya: Kidero Waives Cost of Advertisements for U18

Capital FM, 30 May 2017

The Nairobi County Government has waived the cost of advertisements for the World Under 18 Athletics Championships slated for July 12-16 at the Moi International Sports Centre… Read more »