Mugabe Succession Wars - Minister's Enemies Buy Him a Coffin
The unrelenting infighting over President Robert Mugabe's succession has taken a nasty turn. ruling party opponents of Local Government Minister Saviour Kasukuwere have reportedly bought him a coffin. Kasukuwere has been accused of plotting to unseat Mugabe.
Zimbabwe: Mugabe Probe - Shocking Details

Zimbabwe Standard, 18 June 2017

Zanu PF commissar Saviour Kasukuwere's opponents in the ruling party went to the extent of buying a coffin for the under siege Local Government minister, a report of investigations… Read more »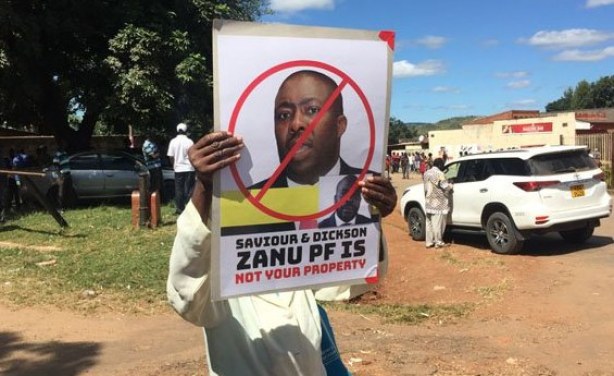 Zanu-PF supporters march against Saviour Kasukuwere.
Zimbabwe: Zanu-PF Politburo Bigwigs in Fresh Row

Zimbabwe Independent, 16 June 2017

ZANU PF political bigwigs are on a renewed collision course over attempts to oust the party's national commissar Saviour Kasukuwere after a heated politburo meeting on Wednesday… Read more »

Zimbabwe: Economy Dominates Zanu-PF Politburo Debate

The Herald, 15 June 2017

The 309th Ordinary Session of the Zanu-PF Politburo met in Harare yesterday and deliberated on various key issues focusing on the state of the economy and the party. Zanu-PF… Read more »

Zimbabwe: Crunch Politburo Meeting for Mugabe's Warring Party

The Herald, 14 June 2017

The Zanu-PF Politburo convenes today amid expectations the issue of embattled National Political Commissar Cde Saviour Kasukuwere will be on the agenda. This follows the completion… Read more »

Zimbabwe: Mugabe Succession Scramble Intensifies

Zimbabwe Standard, 11 June 2017

The entry of Defence minister Sydney Sekeremayi in the race to succeed President Robert Mugabe has intensified Zanu PF factional wars amid accusations that some senior leaders are… Read more »

Zimbabwe: Minister Kasukuwere Fails to Account for U.S.$40,000 Youth Funds

The Herald, 12 June 2017

Embattled Zanu-PF national political commissar Cde Saviour Kasukuwere's younger brother Mr Stanley Kasukuwere has been accused of looting $40 000 disbursed by Government for the… Read more »

Zimbabwe: Is Mugabe's Nephew Zhuwawo Out of Order?

The Herald, 9 June 2017

Recent utterances by Zanu-PF Politburo member and Youth, Indigenisation and Economic Empowerment Minister Cde Patrick Zhuwao, that "Zanu-PF (is) full of idiots" (The Standard, May… Read more »

Zimbabwe: Provinces Snub Ruling Party Commissar Kasukuwere Again

The Herald, 6 June 2017

Zanu-PF structures yesterday resisted machinations by embattled national commissar Cde Saviour Kasukuwere to impose authority on them by calling for an urgent meeting with… Read more »
InFocus
Local government minister and ruling party political commissar Saviour Kasukuwere has been accused of plotting with South African politician Julius Malema to stage a coup against ... Read more »

First Lady Grace Mugabe has stopped five top ruling party officials tasked by President Robert Mugabe to investigate the party's beleaguered political commissar, Saviour ... Read more »