Uganda Football Boss Magogo Gets Another Term
Despite FIFA allegations of corruption during the sale of 2014 World Cup tickets, Moses Magogo has been able to defeat his challengers and has returned to the top post.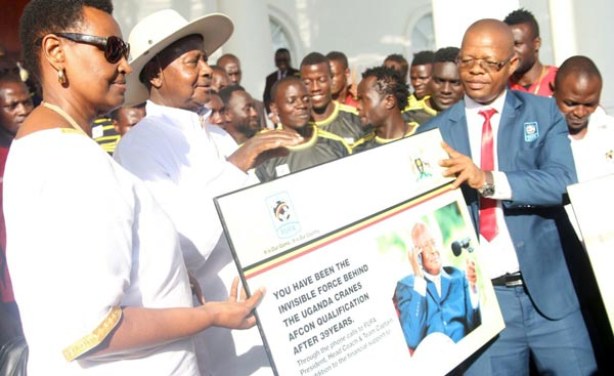 Presidential support. President Museveni and the First Lady Janet receiving a board from Fufa president Magogo in recognition of the support Uganda Cranes enjoyed from government en route a first Africa Cup of Nations apperance in nearly four decades.
InFocus
The president of the Federation of Uganda Football Association, Moses Magogo, is being accused of engaging in the illegal sale of the 2014 World Cup tickets. Read more »

The favoured candidate for the post Mujib Kasule has failed to fulfill the mandatory requirements and is therefore ineligible for nomination as the Federation of Uganda ... Read more »