Rwandan Presidential Aspirant Rwigara Nominated
As required for independent presidential aspirants, Diane Shima Rwigara has presented documents that include 600 signatures of at least 12 registered voters from each of the 30 districts of Rwanda, proof of Rwandan citizenship and a birth certificate among others. She becomes the fourth aspirant after Frank Habineza, of Democratic Green Party of Rwanda, and two independent hopefuls Gilbert Mwenedata and Fred Sekikubo Barafinda, to submit her credentials.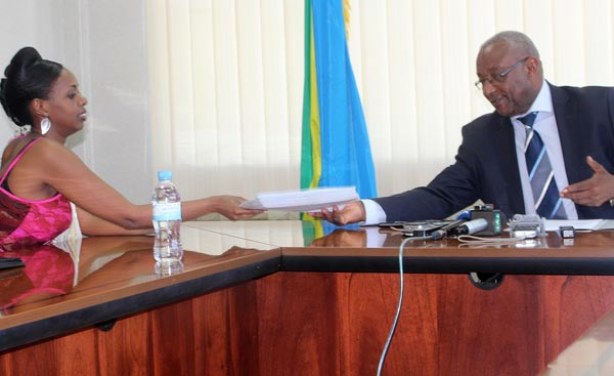 Contesting. Diane Shima Rwigara (left) submits her documents to the chairman of the National Electoral Commission Kalisa Mbanda, in Kigali.
Rwanda: Rwigara Presents Nomination Papers

New Times, 21 June 2017

Diane Shima Rwigara yesterday submitted her nomination papers to the National Electoral Commission (NEC), officially declaring her interest to stand for the presidency. Read more »
InFocus
Charles Munyaneza, the executive secretary of the National Electoral Commission, says presidential polls will be held in 33 of the 35 countries where Rwanda has diplomatic ... Read more »

National Electoral Commission executive secretary, Charles Munyaneza, says the commission has already contracted local printing facilities to print out the ballot papers, adding ... Read more »

The process to submit nomination forms runs until June 23. Read more »