Ugandans Turn to Dar es Salaam Port As Kenya Polls Close in
With about six weeks left before Kenyans go to the polls, the private sector in neighbouring states is now beginning to look at the Dar es Salaam port as an alternative route to import and export goods. The 2007/8 post-election violence saw Ugandan property worth about $40 million destroyed.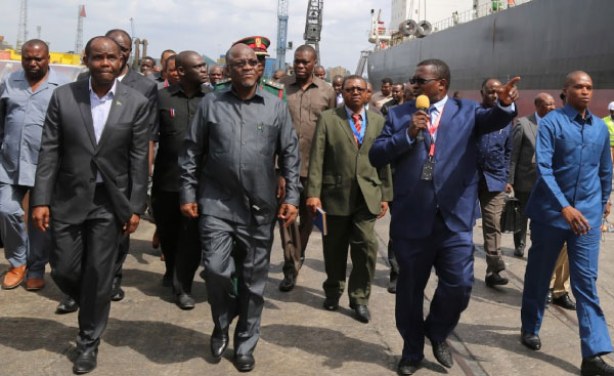 President John Magufuli of Tanzania (front 2nd left) inspects the Dar es Salaam Port early this year. The improvements at the port are expected to quicken delivery of services.
East Africa: Why Kenyan, Tanzanian Presidential Polls Are Watched Closely?

Citizen, 15 June 2017

The battle for, especially, Kenya's State House in August, has truly been joined. Read more »

East Africa: Why Businesses Are Not Taking Political Risk Cover As Kenya, Rwanda Vote

East African, 9 May 2017

As Kenya and Rwanda go to the polls in August, there is an air of optimism among investors in the region that the elections will be largely peaceful, with very few taking up… Read more »

Kenya: Ugandan, Rwandese Post-Poll-Loss Claims Split House Team

Nation, 1 March 2017

MPs are divided whether foreigners should be paid Sh538 million in claims over losses incurred in the 2008 post-election violence before it is confirmed that all claims by Kenyans… Read more »