Uganda Artisanal Miners Petition Museveni Over Eviction Order
The fight over land rights in a gold mining area in Mubende has come to a head, with the artisanal miners vowing to defy a presidential directive that called for their eviction in favour of a certain company.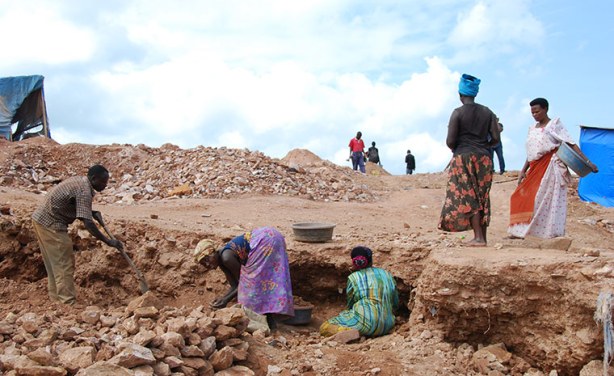 Locals mining gold in Mubende. They have vowed to defy President Museveni's directive to evict them.
Uganda: Artisanal Miners Petition Museveni Over Eviction Order

Monitor, 28 June 2017

Thousands of artisanal miners in Mubende are living in fear after they were told about a proposal to evict them from land totaling about five square kilometres. The miners have now… Read more »

Uganda: Govt Urged to Address Challenges Facing Women in Mining

Oil in Uganda, 3 May 2017

Members of Parliament and human rights activists have asked government to enforce the laws in the mining sector to protect the right of women in the sector. The MPs and other… Read more »

Uganda: Why Mubende Residents Have Not Gained From Gold in Their Are

Monitor, 21 February 2017

A google search for the origin of the word tarpaulin (etundubaali) shows it came from the words 'tar' and 'palling'. It referred to a tarred canvas pall used to cover objects on… Read more »

Uganda: Mubende Gold Miners Cash in Amidst Destruction

Monitor, 20 February 2017

Robinah Nantale sits next to a pit. Holding a hammer in her bare right hand, she breaks down hits rocks of multiple colours. Read more »

Uganda: Inside Mubende's Golden Villages

Independent (Kampala), 1 November 2016

Artisanal miners make a killing from 'illegal' gold mining as district authorities, government cry out for more revenue Read more »

Uganda: Gold Miners Exposed to Toxics - Nema

Monitor, 23 November 2016

The National Environment Management Authority has expressed fear that hundreds of gold miners in five districts could be suffering nervous disorder, lung and kidney ailments and… Read more »

Uganda: Mubende Illegal Gold Miners Apply for Location Licence

Monitor, 1 April 2016

For about five years now, illegal gold miners from various parts of Uganda have occupied two hills of about 44 acres in Kitumbi Sub-county, Mubende District. Read more »