AU's Mission to 'Silence the Guns by 2020' Hamstrung by Funding
Rwanda's President Paul Kagame is tasked with leading a team that is serious about reforming the continental body - more specifically - creating a sustainable funding model.
Africa: African Union 'Must Finance' Itself

Deutsche Welle, 4 July 2017

After its summit on Tuesday, the African Union wants to, among others, send a mission to calm growing tensions between Eritrea and Djibouti. But the donor-dependent body needs… Read more »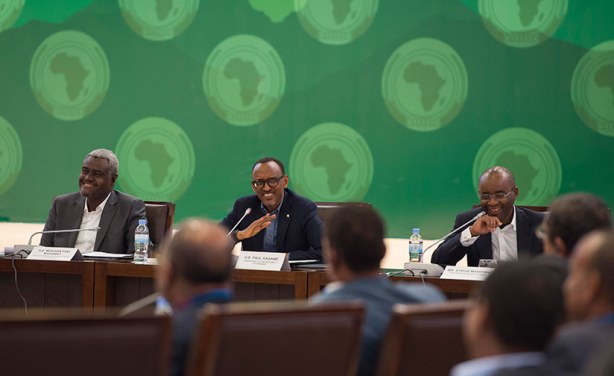 President Kagame with African Union Commission chairperson Moussa Faki Mahamat (L), and Strive Masiyiwa, a member of the Pan-African Advisory team and founder of Econet (R), at a consultative meeting on the African Union Reforms in Kigali.
InFocus
The AU has hailed the formation of a government of national unity and the ceasefire agreement signed in Darfur. Read more »

African leaders at the 29th African Union Summit in Addis Ababa, Ethiopia, have unanimously endorsed President Muhammadu Buhari tochampion the AU's theme for 2018. The ... Read more »

One of the key issues on the agenda of the African Union summit starting in Addis Ababa today is using the continent's population growth. Many fear the rise in the continent's ... Read more »