What the G20 Said on Africa
Leaders of the Group of 20 nations hosted by German Chancellor, Angela Merkel, in Hamburg, have declared their commitment to tackle common challenges to the global community, including terrorism, displacement, poverty, hunger and health threats, job creation, climate change, energy security, and inequality including gender inequality, as a basis for sustainable development and stability, among many other things. Speaking at the conclusion of the two-day summit, South African president, Jacob Zuma, said the German Presidency of the G20 has managed to build on the achievements of the last summit in China, which had emphasised sustainable development in Africa.
Africa: Major Leap for Africa At G20, Says Zuma

SAnews.gov.za, 9 July 2017

The G20 Leaders' Summit, which concluded in Hamburg, Germany, on Saturday, has recorded positive outcomes for global development, with significant benefits for the African… Read more »

Africa: What the G20 Said on Africa

allAfrica, 9 July 2017

Excerpts most directly applicable to Africa drawn from the declaration of leaders of the G20 nations, issued after the leaders' summit in Hamburg on July 7 and 8: Read more »

Africa: G20 - Success for Africa, Failure for Climate

Deutsche Welle, 8 July 2017

Germany has prioritized the achievement of "strong, sustainable and balanced global economic growth" and Africa in its G20 presidency. Did it achieve this? Abu-Bakarr Jalloh… Read more »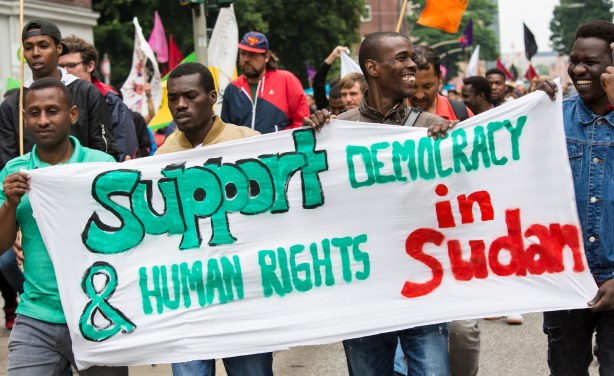 Refugees and their supporters took to the streets of Hamburg ahead of the G20 summit.
Africa: The Poor an Afterthought At the Hamburg G20

Oxfam, 8 July 2017

Reacting to the outcome of the G20 summit in Hamburg, Steve Price-Thomas, Oxfam's director of advocacy and campaigns, said: Read more »

Nigeria: Nigeria, 3 Others Get Trump's U.S.$639 Million Aid

Daily Trust, 8 July 2017

U.S. President Donald Trump on Saturday promised 639 million dollars in aid to feed people facing starvation because of drought and conflict in Northeast Nigeria, Somalia, South… Read more »

Africa: United States Announces Additional Humanitarian Assistance in Response to Famine Risk, Violence, and Forced Displacement

USAID, 8 July 2017

Today, the United States announced nearly $639 million in additional humanitarian assistance to the millions of people affected by food insecurity and violence in South Sudan,… Read more »

Africa: G20's Record Does Not Inspire Hope

IPS, 7 July 2017

The G20 leaders meeting in Hamburg, Germany, on 7-8 July comes almost a decade after the grouping's elevation to meeting at the heads of state/government level. Previously, the G20… Read more »

Africa: G20 Not Yet Doing Enough to Prevent Dangerous Climate Change - Campaigners

Thomson Reuters Foundation, 6 July 2017

G20 not yet doing enough to prevent dangerous climate change - campaigners Read more »

Africa: G20 and Climate Resilience - Time to Act for a Safer Future

Thomson Reuters Foundation, 5 July 2017

To ensure a climate resilient future, the G20 must commit to increasing the protection of women and girls Read more »
InFocus
German Chancellor Angela Merkel placed Africa's developmental needs high on the agenda of the Group of 20 Summit she hosted in Hamburg. Just how much support - or opposition - this ... Read more »