Questions Raised After Kenyan Minister Nkaissery's Sudden Death
The director of criminal investigations has revealed that police bodyguards assigned to Cabinet Secretary Joseph Nkaissery are also being questioned by detectives. Nkaissery's family has also appointed a pathologist, who is expected to work with the government's own, during the autopsy, according to sources.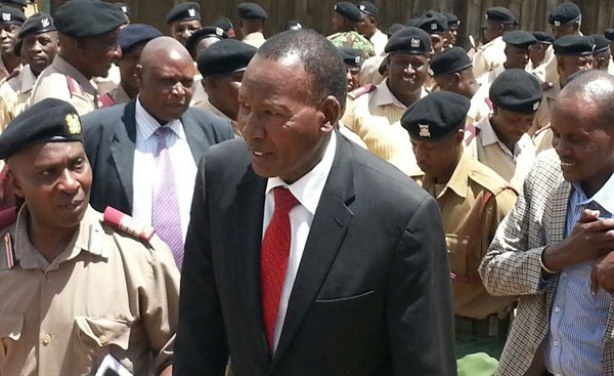 The late Interior Cabinet Secretary Joseph Nkaissery after meeting administrators in Narok County (file photo).
Kenya: Mailu to Chair Nkaissery Funeral Committee

Nation, 9 July 2017

Health Cabinet Secretary Cleopa Mailu has been appointed by the government to chair a funeral committee for his late cabinet colleague Joseph Nkaissery. Read more »

Kenya: Nkaissery - Questions Raised Over His Death

Nation, 9 July 2017

More condolences continue to pour in as Kenyans come to terms with the shocking death of Interior Cabinet Secretary Joseph Nkaissery as questions are raised over his demise. Read more »

Kenya: Joseph Nkaissery Comes From Long Line of Strongmen

Nation, 9 July 2017

Joseph Nkaissery was the face of security -- nobody could second-guess him, and nobody saw his death coming. Read more »

Kenya: Joseph Nkaissery Leaves Behind a Huge Leadership Gap

Nation, 9 July 2017

The death yesterday of Interior Cabinet Secretary Joseph Nkaissery left a huge gap in Maasai politics. Read more »

Kenya: Matiangi Appointed Acting Interior CS After Nkaissery's Death

Capital FM, 8 July 2017

President Uhuru Kenyatta has appointed Education Cabinet Secretary Fred Matiangi to the Interior ministry on acting capacity, following the death of Joseph Nkaissery. Read more »

Kenya: Kenyatta, Moi and Odinga Lead in Mourning Nkaissery

Capital FM, 8 July 2017

Leaders across the country were on Saturday united in mourning the death of Interior Cabinet Secretary Joseph Nkaissery, describing him as a fearless leader who served the country… Read more »

Kenya: Like a True General, Nkaissery Fought Tooth and Nail to Protect the Police Force

Nation, 8 July 2017

Joseph Nkaissery's first loyalty was always to the crown. He was very protective of the uniformed officers to the point of being seen as a stumbling block to police reforms. Read more »

Kenya: Nkaissery Took Over as CS at Height of Al-Shabaab Attacks

Nation, 8 July 2017

When Major- Joseph Nkaissery took over as Cabinet Secretary for Interior and Coordination of National Government in December 2014, Kenya was facing serious challenges in fighting… Read more »

Kenya: Nkaissery Was Rushed to Hospital After Collapsing At Home - Sources

Capital FM, 8 July 2017

Fresh details have emerged indicating that Interior Cabinet Secretary Joseph Nkaissery was rushed to hospital after collapsing in his house. Read more »

Kenya: Kenya Mourns 'Jemedari' Joseph Nkaissery

Nation, 8 July 2017

Kenya is coming to terms with the sudden death of Interior Cabinet Secretary Joseph Nkaissery on Saturday morning. Read more »
InFocus
Joseph Nkaissery's death, coming exactly a month ahead of the election set for August 8, is a big blow to the nation due to the critical role he was playing in strategising with ... Read more »