Skoll Bets Big Against Global Threats
Jeff Skoll, a Canadian immigrant and dual citizen, is being recognized in the United States for a data-driven approach to major global problems and a high tolerance for risks. The Skoll Foundation supports social entrepreneurs with innovative ideas about health, housing, education and other essential needs. Skoll-funded organizations tackle threats of mass destruction, such as disease pandemics, climate change and the spread of nuclear weapons; invest in companies that aim to do good while doing well; and produce films and digital media that meld entertainment with inspiration.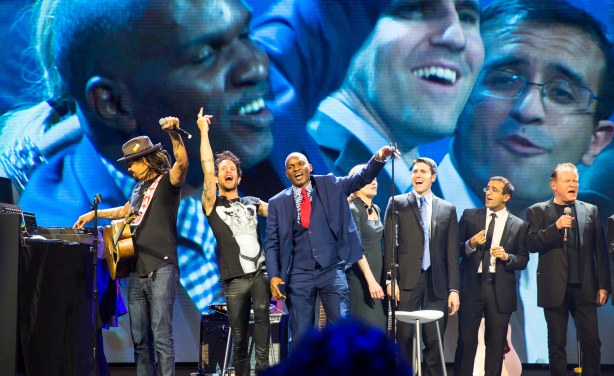 Celebrating the awards for social entrepreneurship at the Skoll World Forum 2017 - on the big screen behind the stage are representatives of the two African awardees - Apollo Goma of Babban Gona in Nigeria and Dr. Raj Panjabi of Last Mile Health in Liberia.
Photo Essay
Picture 1 of 11

Ruben Koroma and the Sierra Leone Refugee All Stars performed at the opening plenary of the Skoll World Forum 2017 in Oxford. The band formed in refugee camps during conflicts in Sierra Leone and ... see more »
InFocus
The Skoll Foundation honors social entrepreneurs whose proven innovations are disrupting an unjust and unsustainable status quo.The 2017 awardees include Dr. Rajesh Panjabi (Last ... Read more »
Africa: WHO Vote – Will It Save Our Lives?

allAfrica, 22 May 2017

There is high drama in Geneva as health experts worry whether politics will outweigh accountability and experience in tomorrow's down-to-the-wire balloting for Director-General of… Read more »