Presidential Campaigns Kick Off in Rwanda
The three presidential aspirants, President Paul Kagame, Frank Habineza and Philippe Mpayimana will spend the next 19 days travelling to the different parts of the country, holding rallies and searching for votes ahead of the August 4 elections. The candidates will unveil their manifestos, asking citizens to vote for them for the next seven-year presidential term.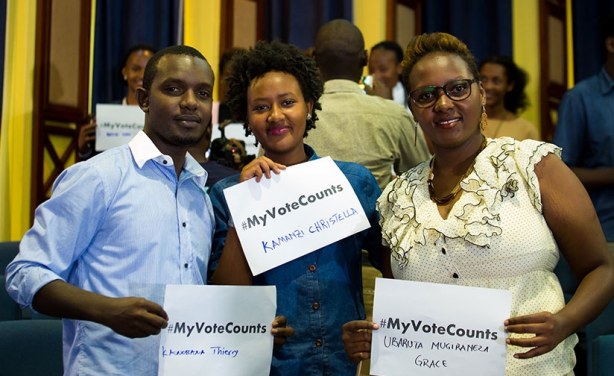 Youths tipped on elections.
Rwanda: Candidates Cautioned Against Hate Speech

New Times, 14 July 2017

The National Electoral Commission (NEC) expects presidential candidates to be experienced enough to steer clear of any kind of speech that could take the nation in the wrong… Read more »

Rwanda: What Should Rwandans Expect From Electoral Campaigns?

New Times, 14 July 2017

Presidential campaigns kick off today in Rwanda. All the approved candidates will traverse within a period of less than three weeks. Read more »

Rwanda: Know Your Presidential Candidates

New Times, 14 July 2017

Three candidates nominated for the 2017 presidential elections launch their campaigns today in different parts of the country. They are Paul Kagame, of Rwanda Patriotic Front… Read more »

Rwanda: 2017 Elections - Scaling Up a Transformational Agenda

New Times, 14 July 2017

As the presidential campaigns get underway today, one thing remains important: scaling up our transformational agenda is critical to Rwanda's development trajectory that should not… Read more »

Rwanda: Ruling Party Unveils Its Manifesto

New Times, 13 July 2017

RPF-Inkotanyi has unveiled its manifesto for the forthcoming presidential campaigns, which will mainly focus on the party's plans to strengthen the economy, social welfare, and… Read more »