Beating Poverty in Africa - Where to Start
Beating poverty in Africa will require finely-tuned interventions to overcome the wide variety of factors hindering development, including targeted action in areas ranging from from health and education to the improvement of living standards by providing efficient cooking fuel and safe drinking water. Helping to pinpoint the action needed, development economists at Oxford University in Britain, working with the UN Development Programme, have published a new study which identifies, country by country and region by region, the nature and intensity of the wide variety of deprivations which each poor person experiences. AllAfrica reports on their findings.
Photo Essays
Picture 1 of 9

A new survey mapping poverty across Africa shows how the people of northern Nigeria suffer worse levels of deprivation on average than those in the south. In one of the poorest states, Zamfara, three ... see more »

Picture 1 of 14

"Ann-Sophia", a 37-year-old Kenyan, is one of Africa's 520 million poor, as defined by the Oxford Poverty and Human Development Initiative (OPHI), working with the UN Development Programme. see more »
Africa: Half the World's Poor are Children

OPHI, 17 July 2017

New Oxford University research on global poverty exposes disturbing extent of the challenges facing UN's new Sustainable Development Goals over the eradication of child poverty. Read more »
Documents
Author:

Sabina Alkire and Gisela Robles

Publisher:

Publication Date:

17 July 2017

The 2017 global Multidimensional Poverty Index (MPI) provides a headline estimation of poverty and its composition for 103 countries across the world. ... see more »

Author:

Sabina Alkire, Christoph Jindra, Gisela Robles and Ana Vaz

Publisher:

Publication Date:

17 July 2017

With the adoption of the Sustainable Development Goals (SDGs), the international community affirmed the importance of eradicating child poverty, ... see more »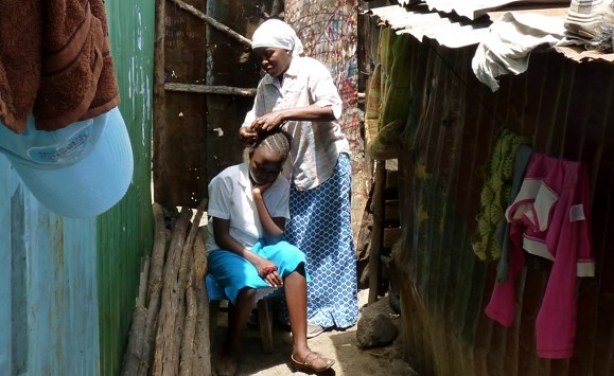 Ann-Sophia ekes out a living by hairdressing.