Jubilee and Nasa Blamed in Round 1 of Kenya's Presidential Debate
Thirdway Alliance candidate Ekuru Aukot, independent candidates Japheth Kaluyu and Michael Wainaina have described National Super Alliance and Jubilee as among the problems the country is facing as they painted pictures of a bright future without tribalism, corruption and bad manners, if elected. Only 3 out of 6 candidates showed up for the event.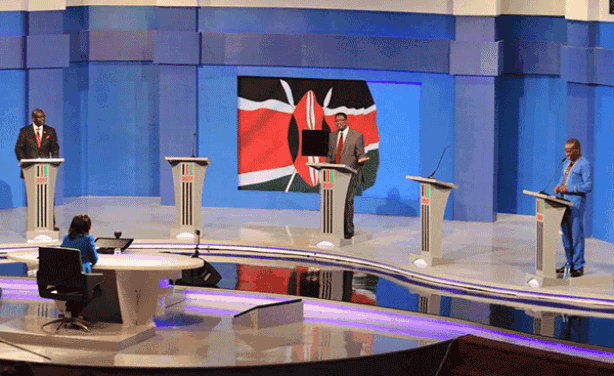 From left: Dr Ekuru Aukot, Dr Japhet Kavinga Kaluyu and Prof Michael Wainaina face off at Catholic University of Eastern Africa in Karen, Nairobi.
Kenya: Presidential Debate - Can't Hunt for Your Goat With People Who Ate It

Capital FM, 24 July 2017

'Vote for me and corruption will be a thing of the past' - is the promise of Dr Japheth Kavinga, one of the eight presidential candidates. Read more »

Kenya: 3 Candidates Pledge to Fight Graft, Improve Education in TV Debate

Capital FM, 24 July 2017

The first tier of the presidential debate took place Monday evening, with three out of six candidates facing off in a televised parley. Read more »

Kenya: What Aukot, Wainaina and Kavinga Pledged

Nation, 24 July 2017

Three presidential candidates last evening described National Super Alliance (Nasa) and Jubilee as among the problems Kenya is facing as they painted pictures of a bright future… Read more »

Kenya: Dida to Skip Presidential Debate

Nation, 24 July 2017

Alliance for Real Change (ARC) flag bearer Mohammed Abduba Dida says he will not participate in Monday's presidential debate citing media bias. Read more »

Kenya: Highlights of Round One of Presidential Debate 2017

Nation, 24 July 2017

The first round of 2017 Presidential Debate has gone down at Catholic University of Eastern Africa in Karen, Nairobi. Read more »
InFocus
National Super Alliance presidential candidate, Raila Odinga, was the sole participant after President Uhuru Kenyatta ended a day of mixed signals from State House by skipping the ... Read more »

What happened in Kenya's televised presidential debates on July 17.... Read more »

This follows Alliance for Real Change's presidential candidate Mohammed Abduba Dida's petition to have the debates stopped if not all eight candidates are allowed on the same ... Read more »