Kenya Names Cholera Hotspots
Health Principal Secretary Julius Korir said Kisumu, Garissa, Machakos and Nairobi counties have been mapped out as problem areas. He say the government has sought the help of international bodies such as the World Health Organization in mitigating the outbreak.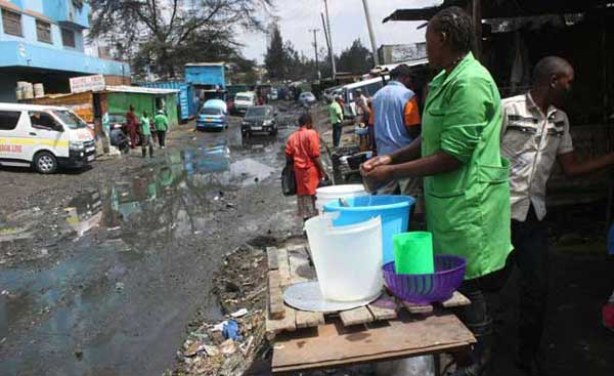 A food vendor goes about her business as raw sewage flows nearby.
Kenya: Nurses' Strike Hits Fight Against Cholera

Nation, 26 July 2017

Efforts to curb Kenya's latest cholera outbreak have been hampered by a nurses' strike that enters its 54th day Wednesday, putting the lives of hundreds of patients at great risk. Read more »

Kenya: Cholera Kills Two Including Inmate at Kodiaga Prison

Capital FM, 25 July 2017

Two people have been confirmed dead as a result of cholera outbreak in Kisumu as health officials teamed up to contain further spread. Read more »

Kenya: Mutua's Govt Moves to Contain Cholera Outbreak in Machakos

Capital FM, 25 July 2017

The Ministry of Public health and Sanitation of Machakos has closed indefinitely, 17 hotels in Kangundo sub-county in the wake of a cholera outbreak in the county. Read more »

Kenya: Fear of Cholera Outbreak at Kodiaga Prison

Nation, 25 July 2017

Three inmates at Kodiaga Maximum Prison have been admitted to hospital after developing cholera-like symptoms. Read more »

Kenya: Cholera Outbreak Highlights Fears About Antibiotic Resistance

The Conversation Africa, 24 July 2017

A cholera outbreak in Kenya's capital, Nairobi, has prompted the health authorities to withdraw all medical licences issued to food handlers countrywide. About 336 cholera cases… Read more »

Kenya: Firm Says City Water Safe as Cholera Hits 12 Counties

Nation, 21 July 2017

The Nairobi water distribution company has said moved to reassure consumers about the safety of its water in the wake of a cholera outbreak that has claimed four lives to date. Read more »

Kenya: KRCS to Set Up 4 Cholera Treatment Centres in Nairobi

Capital FM, 21 July 2017

The Ministry of Health has received a boost from the Kenya Red Cross Society (KRCS), with the latter promising to set up four cholera treatment centres in areas prone to a cholera… Read more »
InFocus
The Ministry of Health says the incident that left several delegates attending a trade expo hospitalised with symptoms of the waterborne disease, is being investigated and that ... Read more »

This comes after the Ministry of Health issued a command to cancel all medical certificates for food handlers, an attempt to contain the spread of cholera that has left 3 people ... Read more »

The national government has warned Nairobi county to move urgently on the increasing cases of cholera as the Kenyatta National Hospital established an emergency ward in a bid to ... Read more »