Zimbabwe's Opposition Goes Broke, Closes Up Shop
The Movement for Democratic Change headquarters has been left empty after the messenger of court pounced on the party's offices, seizing property in order to settle a U.S.$108,000 debt owed to a former employee. The party is reportedly holding its national executive and standing committee meetings at its leader Morgan Tsvangirai's residence.
Zimbabwe: Opposition Property Attached

The Herald, 1 August 2017

MDC-T has temporarily shut down its Harvest House headquarters in central Harare after the Sheriff of the High Court attached its furniture to recover $108 000 in labour damages… Read more »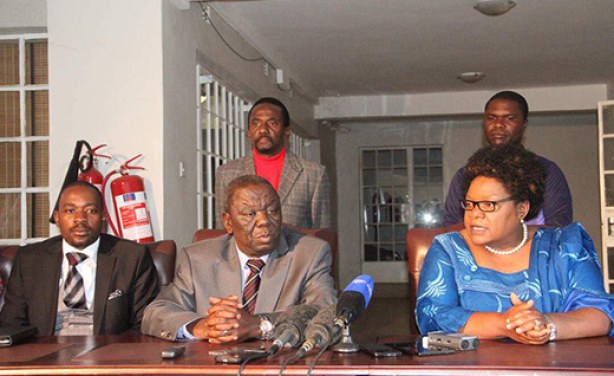 Opposition leaders Nelson Chamisa, Morgan Tsvangirai and Joice Mujuru (file photo).
Zimbabwe: Opposition Headquarters Shut Down - Report

The Herald, 1 August 2017

MDC-T has temporarily shut down its Harvest House headquarters in central Harare after the Sheriff of the High Court attached its furniture to recover $108 000 in labour damages… Read more »

Zimbabwe: Is Tsvangirai Heading for Defeat?

The Herald, 31 July 2017

Four years ago today, Zimbabweans went to the polls to vote for the President and their representatives in the Eighth Parliament where they overwhelmingly endorsed President Mugabe… Read more »