Could Buhari be Returning Home to Nigeria?
Speculation about President Muhammadu Buhari's return is rife. Sources in London have claimed that the presidential jet has taken off from there to Abuja - and it has been reported that some staff at the Presidential Villa have been on standby since Monday.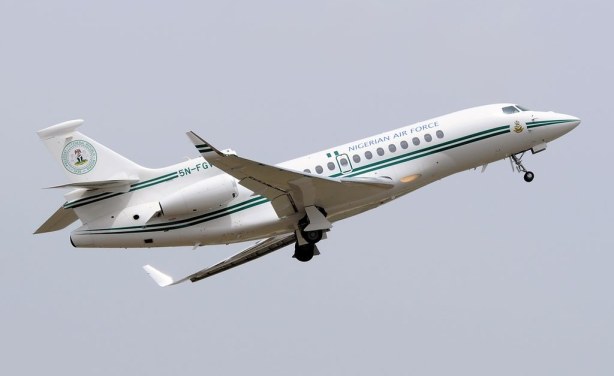 Nigerian Air Force Dassault Falcon 7X.
Nigeria: Villa Staff Put On Standby for Buhari's Return

Daily Trust, 1 August 2017

All is now set for President Muhammadu Buhari's return from the United Kingdom as State House staff have been put on standby. Read more »

Nigeria: 'President Buhari Became Sick As a Result of the Money Stolen in Nigeria'

Vanguard, 31 July 2017

The publisher, Sahara Reporters, Omoyele Sowore has said that President Muhammadu Buhari got sick when he saw how much had been looted from Nigeria and that there is no more… Read more »

Nigeria: Why Buhari Must Be Placed On Herbs

Guardian, 3 August 2017

A Greek philosopher once said: "After thunder, rain comes." Another philosopher said: "There are two periods in life - negative and positive periods." Read more »

Nigeria: APC States Chairmen Meet Osinbajo Over Buhari's Health, Economy

Vanguard, 3 August 2017

States Chairmen of the All Progressives Congress, APC, yesterday evening met with the Acting President, Prof. Yemi Osinbajo in a closed-door meeting at the Presidential Villa,… Read more »

Nigeria: APC State Chairmen Meet Osinbajo, Anxious About Buhari's Health

This Day, 3 August 2017

Acting President Yemi Osinbajo wednesday met with the state chairmen of the All Progressives Congress (APC) behind closed doors in the State House, Abuja. Read more »