Archbishop of Canterbury Visits Refugee Camps in Uganda
The Archbishop of Canterbury Justin Welby, made a brief trip to Uganda as an extension of an official visit to Sudan where he made the country the 39th province of the worldwide Anglican Communion, six years after the predominantly Christian south gained independence from the north.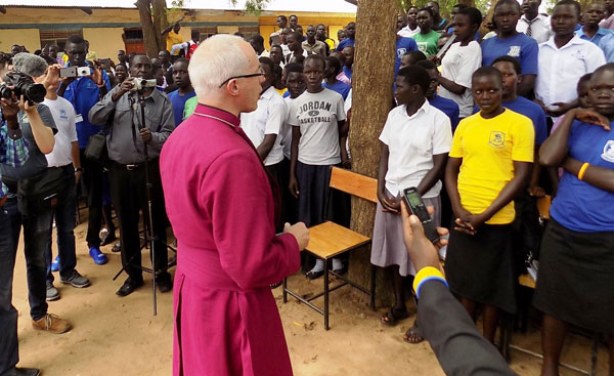 The Archbishop of Canterbury, Justin Welby speaks to students of Itula Secondary School in Moyo District. Some of the students at the school are South Sudan refugees.
Sudan: Archbishop of Canterbury Concludes Visit

SNA, 1 August 2017

The Archbishop of Canterbury, Justin Welby, left the Country , Tuesday , after a three-day visit during which he held meetings at official and popular levels and attended… Read more »

Sudan: Ghandour Receives the Archbishop of Canterbury

SNA, 31 July 2017

The Minister for Foreign Affairs, Professor Ibrahim Ghandour, on Monday received the visiting archbishop of Canterbury Justin Welby who is currently on an official visit to the… Read more »

Sudan: Sudan Becomes 39st Province of Anglican Church

Radio Dabanga, 31 July 2017

The Archbishop of Canterbury, Justin Welby, has declared Sudan a new province of the Anglican Church on Sunday. Read more »