Mozambican President Meets Renamo's Dhlakama in Jungle Hideout
Mozambican President, Filipe Nyusi, has met Afonso Dhlakama, leader of Renamo, the main opposition party in the country. The meeting, in Dhlakama's jungle hideout in the mountains of Gorongosa, is the first between the two since 2015, after they indefinitely extended a ceasefire, raising hopes for the beginning of a peace process in the country.
Mozambique: EU, U.S. Congratulate Nyusi and Dhlakama

AIM, 7 August 2017

The European Union (EU) delegation in Mozambique and the US government congratulate the Mozambican President, Filipe Nyusi, and Renamo leader Afonso Dhlakama for their meeting held… Read more »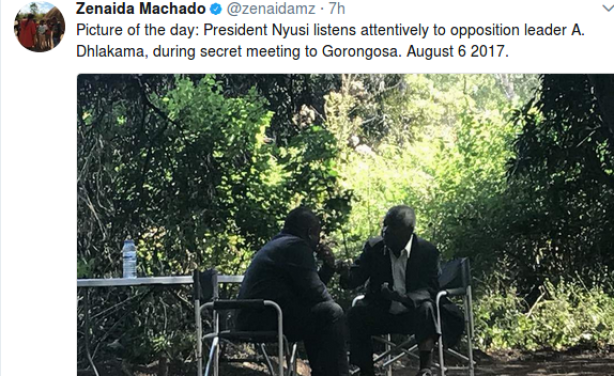 Mozambican President Filipe Nyusi and the leader of the Renamo, Afonso Dhlkama in Gorongosa.
Mozambique: Nyusi Meets With Dhlakama in Gorongosa

AIM, 6 August 2017

Mozambican President, Filipe Nyusi, on Saturday met Afonso Dhlakama, leader of Renamo, the main opposition party in the country. Read more »

Mozambique: No Special Treatment for Renamo Leader - President

AIM, 6 August 2017

Mozambican President, Filipe Nyusi, on Saturday declared that there is no need for a special treatment for Afonso Dhlakama, leader of Renamo, the main opposition party in the… Read more »

Mozambique: 'Ruling Party Congress Will Take Nation to Prosperity'

AIM, 27 July 2017

The President of Frelimo, Filipe Nyusi, on Thursday declared that the upcoming XI Congress scheduled to take place between 26 September and 1 October will reaffirms the commitment… Read more »

Mozambique: Nyusi in Tete Urges National Reconciliation

AIM, 30 June 2017

Mozambican President Filipe Nyusi on Thursday urged the population of the western province of Tete to become involved in national reconciliation, in the framework of the dialogue… Read more »
InFocus
Mozambican forces have disobeyed the instructions given by President Filipe Nyusi to withdraw from positions near the Gorongosa mountain range, Renamo leader Afonso Dhlakama has ... Read more »

Civil society organizations have added their voice to those demanding that the loans borrowed from European banks in 2013 and 2014 by three Mozambican security-related companies be ... Read more »

Following the announcement, Renamo leader Afonso Dhlakama said the political dialogue must continue in the presence of international mediators. Read more »